PHOTOS: Teen Mom Leah Messer Files For Divorce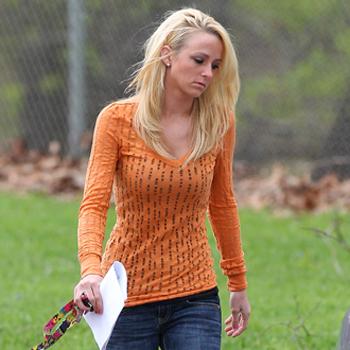 Leah Messer has filed for divorce from Corey Simms, her husband of just six months. The Teen Mom 2 star filed in Kanawha County, West Virginia on Friday.
The next day, with the MTV cameras rolling, the teen cried over the legal docs as she sat with a close friend, in a park near the county courthouse.
The split was included in a lengthy list of divorce filings reported in Saturday's Charleston Gazette-Mail. "Leah Messer Simms from Corey Simms," it simply said.
Article continues below advertisement
But there is nothing simple or uncomplicated about this uncoupling. Leah and Corey, who wed October 17 in Charleston, are parents to 16-month-old twins Aleeah and Aliannah. Ali was was born with several disabilities, and her young parents discussed the challenges they faced with her in a episode of their show.
Leah, 18, and Corey's wedding was shown in the Teen Mom 2 season finale. And during the reality show's recently aired reunion special, Leah spoke about the relationship. "Marriage to me is a big commitment. If I took that vow it is going to be forever," she said.
But "forever" has already come and gone, and with cameras rolling right from the time of the divorce filing, Leah and Corey's bust-up is being set up as one of the major story.
RELATED STORIES: