Kyle Richards Apologizes For Shocking Limo Brawl With Sister Kim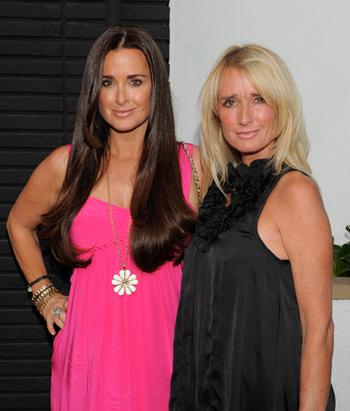 The season finale of The Real Housewives of Beverly Hills featured a disturbing fight between sisters Kim and Kyle Richards, and now Kyle is expressing her regrets, RadarOnline.com has learned.
Paris Hilton's aunts nearly got physical -- only the presence of costar Adrienne Maloof and a male friend -- kept them from coming to blows.
Now Kyle says, "The events that transpired that evening were quite unfortunate and should never have occurred on or off camera...We both said and did tings that we regret. My sister and I love each other very much. Sometimes, I wish I loved her a little less. We want to move forward and put this behind us."
Article continues below advertisement
As RadarOnline.com reported, the Thursday night episode of the controversial Bravo series showed a tipsy Kim telling off her costars. When Kyle caught up with her sister in the limo, she called Kim a "demented alcoholic." She bellowed that she and her husband would no longer help Kim out. "You're on your own now," Kyle said, pointing her well-manicured figure in her sister's face.
Kim checked into rehab for a week following the incident, and she and Kyle became estranged.
"We didn't speak for a long time," Kyle writes in her Bravo blog. "Next to losing my mother, this was the most difficult time of my life."
Kyle doesn't say if she and Kim have reconciled.
You'll have to tune in to The Real Housewives of Beverly Hills reunion special Thursday, January 27.
RELATED STORIES:
Kim Richards Checks Into Rehab After Real Housewives Brawl
VIDEO: Real Housewives Of Beverly Hills Dinner Party Turns Catty