Exclusive
O.C. Housewife Vicki Gunvalson's 'Deadbeat Dad' Boyfriend -- The Mug Shot!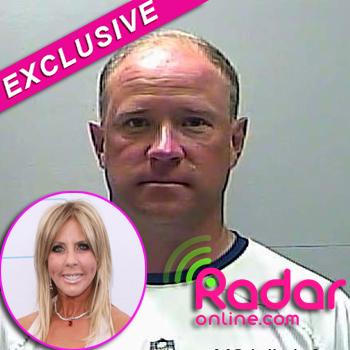 Brooks Ayers, the new boyfriend of Real Housewives Of Orange County star, Vicki Gunvalson, is a 'deadbeat dad' who owes thousands of dollars in child support to TWO separate women -- and now we have the mug shot to prove it!
Ayers' mug shot was taken on August 29, 2010 at the Lee County Jail where he was incarcerated for failure to pay child support.
As RadarOnline.com previously reported Brooks' was arrested twice by police in Alabama and Mississippi last year for failing to meet his child support obligations to estranged wife Kim.
Article continues below advertisement
It's claimed he owes about $40,000, in total, to her and another woman: his ex-girlfriend, Nicolette Catanzarite from Indianapolis, IN., with whom he has a son.
Vicki, who last year filed for divorce from second husband Donn after 17 years of marriage, has been stepping out with Brooks on a number of dates, and even leant her famous name to her new beau's case in a desperate bid to bail him out of his financial disaster.
"I am a personal friend of (David) Brooks Ayers and am acting on his behalf at this time," the reality star wrote in an August 30 letter to a Mississippi judge, pleading for him to be released from jail.
EXCLUSIVE PHOTOS: Tamra Barney and Eddie Judge
Read the hand-signed letter here.
It was written almost TWO MONTHS before Gunvalson filed divorce papers from husband Donn and while the pair was still living together at her Coto de Caza, Calif., home.
Article continues below advertisement
Their divorce is still pending.
"Due to the fact I live in California, I am unable to deliver this request personally," Gunvalson added in her missive to the court.
"This letter is requesting a hearing before a judge as soon as possible."
The deadbeat dad case carries more than a hint of irony for Vicki, who was been an outspoken critic of co-star Gretchen Rossi's boyfriend Slade Smiley, who as RadarOnline.com previously reported, owes a whopping $138,857.64 in unpaid child support.
When contacted for comment, Brooks' lawyer said he had asked a court to modify spousal and child support in the case of Kim.
He conceded the amount his client owed was "subject to debate" and added "it's now up to to the court to soon decide."
But since Brooks was released from jail in September, he has paid $20,000 to Kim bringing the total of $90,000 over the past four years ago, attorney Ben Logan said.