Exclusive
Real Housewife LuAnn Keynote Speaker At NYU Nursing School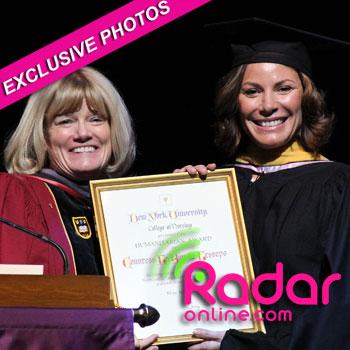 Countess LuAnn de Lesseps was the keynote speaker at the NYU College of Nursing graduation today and she credited her nursing degree to the success she achieved as a model.
"I worked part time as a nurse when I was scouted to model, and I am convinced I got many of my jobs because I was not just a waitress,' LuAnn told RadarOnline.com after her speech.
"Think about it, the people hiring would rather go on the plane to Aspen with a nurse than with someone who was just waiting tables."
Article continues below advertisement
Known for her role on the hit show, the Real Housewives of New York, the Countess said she found her love of nursing when she was a teenager.
"I worked in a home for the elderly when I was only 14 years old, my job was to wash dishes in the back but I would chat with everyone there and I just fell in love with the elderly."
Explaining how she became the keynote speaker, LuAnn said "I met the Dean of the NYU College of Nursing and she just loved all the humanitarian work that I do and so she asked me to be the keynote speaker."
"It was very humbling," she said. "It was rewarding to talk to the class and really nice to be recognized for something other than The Real Housewives of New York."
She said she's even drawn on her nursing experience to help her in real life. "I explained to the graduates how nursing has served me well my entire life, as a mother, a daughter to my father in hospice and even in public situations when people have had a seizure etc."