Exclusive
OC Housewife Tamra Barney Shedding The Pounds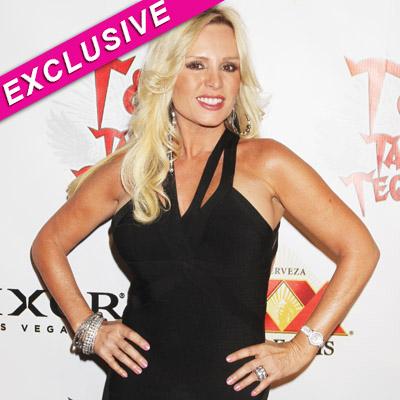 The Real Housewives of Orange County star Tamra Barney has dropped six pounds in a little over a month with the help of Millionaire Matchmaker Patti Stranger!
And Barney dished to RadarOnline.com on her no-starvation spring slim-down.
Barney didn't like what she saw earlier this year when she noticed bikini picture of her splashed across the pages of a magazine during a recent Mexico vacation with boyfriend Eddie Judge.
Article continues below advertisement
There was no doubt about it: She was packing on the pounds!
And love apparently was the cause of it all.
"Usually when you are happy in love and comfortable in a relationship, you tend to gain weight, or as I like to call it, love chub," Barney said, adding that she and Judge put on 10 pounds since the start of their relationship.
The blonde beauty added she was told about the SENSA Weight-Loss System from Patti Stranger, who herself lost 25 pounds on the plan.
And Barney liked it well enough to hook on Judge, who started the men's program.
"With the summer right around the corner, Eddie and I want to be in top shape, but we still want to enjoy weekend getaways and eating out," Barney said. "It's the ideal weight-loss system because it helps control our appetite without restrictive dieting."
Tamra told RadarOnline.com that she also has been hitting the gym hard.
RELATED STORIES: