9021-Oh Dear! Kim Richards' Boyfriend's Shady Past Revealed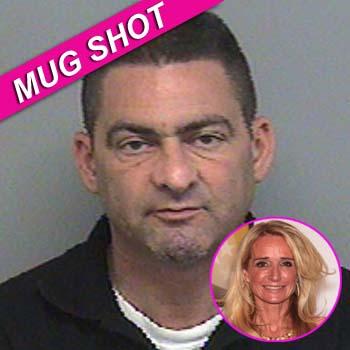 Is it all going to end in tears for Real Housewives Of Beverly Hills star Kim Richards?
It's certainly starting to look that way as more and more information comes forward about the shady past of her new boyfriend, Ken Blumenfeld.
As RadarOnline.com was first to report, Blumenfeld still has an active profile on dating website, Match.com, and now a mug shot of the 48-year-old businessman has been unearthed.
Article continues below advertisement
Blumenfeld was arrested in 2009 for a DUI, which is sure to raise yet more concerns for Kim's own sobriety.
The 46-year-old reality star checked into rehab earlier this year, following a drunken brawl with her sister Kyle that was broadcast on the season one finale of Real Housewives of Beverly Hills.
Kim kept her year long relationship with Blumenfeld a secret from her family, only telling them about him after they made the decision to move in together.
Kyle admitted in a past episode of Real Housewives that she was "worried" about the relationship, going on to state that she was concerned that, "Kim is just lonely."
The younger sister also said that she fears Blumenfeld will be a bad influence, adding that Kim's children consider him to be "controlling."
Adding more fuel to the fire, a source has told MailOnline that Ken is a "nightmare" who has ignited several explosive arguments with Kim at his Westlake home.
Article continues below advertisement
Apparently one fiery argument even forced Kim to move out of the home, until Blumenfeld tracked her down at a friend's house and persuaded her to move back in.
"Kim thinks she's in love with someone who cares about her, but Ken is a controlling nightmare and he's not right for her," the source told MailOnline.
"The family doesn't like him, he's controlling and Kim shouldn't be living at his house.
"Kim went through a lot last year with her drinking problem and the pressure from the show and her relationships only trigger Kim's addiction.