Exclusive
EXCLUSIVE INTERVIEW: Ex Blasts OC Housewife's Beau For Attending Cancer Event While Neglecting Son With Brain Tumor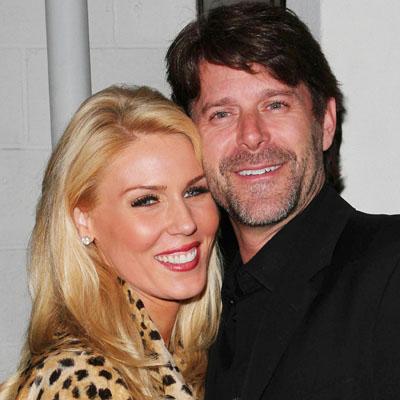 Every relationship has some baggage but when it comes to Slade Smiley, the boyfriend of Real Housewives of Orange County star Gretchen Rossi, his past continues to underline the criticism her cast mates have thrown at him on the show.
His ex, Michelle Arroyo, spoke to RadarOnline.com exclusively about her reaction to Slade's involvement in an upcoming cancer charity event despite his continued refusal to pay child support and medical expenses related to their son's brain tumor.
Article continues below advertisement
Slade, who has had a recurring role on the Bravo reality series since season 1, is slated to co-host the Project Pink Runway Show on Friday at Westfield Valley Fair in the Bay Area to benefit the American Cancer Society. Gretchen is also scheduled to model in the event.
But Slade's ex says his philanthropic efforts might be true to form and not true to heart.
"Another disingenuous attempt at trying to portray himself as a father concerned for his son and his own battle against cancer," Michelle told RadarOnline.com.
Slade's 10-year-old son Grayson has a rare brain tumor,and Michelle has been battling the reality star for child support and medical bills since 2005.
"Grayson has a brain injury... he's had six brain surgeries... and he has long-standing permanent effects from chemotherapy," she said.
"There's so much that can be done for him, but his father has never made an effort to further any of that, to help pay for any of that, to help take him to any of his therapies to really do anything for him.
Article continues below advertisement
"So I have a hard time seeing that this is a genuine concern and effort for a cancer cause."
But even against the odds Grayson is pulling through.
"...They haven't seen any kids survive 10 years, which he's 10 now so he's actually doing wonderfully compared to other kids who usually pass away at this point.
"I quit trying to get Slade to pay the child support once the federal tax liens were filed against him because it is essentially just a waste of money. The IRS will get their money before we get any money."
According to court documents seen by RadarOnline.com, as of July 2010, Slade's child support balance was over $100,000.
Yet he owes even more in outstanding medical bills, therapy and educational expenses, Michelle claims.
"As of December 2006 he owed me $7,200 which I discounted $5,200, but he only made $2,000 towards those amounts. He still owes me his half of all amounts from December of 2006 until now."
Article continues below advertisement
Their child support case has since been transferred from Orange County after both parents moved to Los Angeles.
"We had already progressed to a certain point in that system and I had hoped to get everything completed in that system ... it was a real bummer because we had worked so hard in Orange County for years. He really has never willingly paid child support. It's always been via garnished wages that the court orders.
"...In 2008, he had made some small payments in the beginning of the year like a couple hundred dollars here, nothing substantial. So I've just been supporting Grayson on my own," Michelle said.
The last child support hearing took place on September 17.
"I know he has the IRS tax liens and he had several judgments against him for credit card bills and things like that... and he brought this information to court to show the judge."
Article continues below advertisement
According to Michelle, once the case was transferred to Los Angeles, Slade filed a modification of support in October 2009 to avoid possible criminal charges.
"Every hearing since then he asks for a continuance because he knows that until the judge has a ruling the state's attorney cannot go after him under criminal charges.
So he's been kind of playing the game of basically dragging it out as long as he can. He did the same thing in Orange County. It's no surprise."
Michelle thinks Slade's efforts would be better put towards a cancer cause that would more benefit his son.
"To be honest with you, I don't know Gretchen personally, but I would assume that what she did for The Leukemia & Lymphoma Society it goes hand-in-hand with the American Cancer Society, and truly if they really had good intentions I think they could put their time and effort into really raising awareness and he might want to get involved in a cause that might save his son's life.
Article continues below advertisement
"Childhood cancer is the most under researched, under funded killer disease of our kids and it's the number one killer disease of our kids."
She thinks his intentions aren't altogether altruistic.
"I personally think that he is just trying to profit for his own benefit. You know, do something for himself," Michelle said. "I really honestly don't think that he's really interested in these causes. If he truly were then he would be out doing something for brain tumor research specifically.