EXCLUSIVE INTERVIEW: Real Housewife Kim Zolciak Defends NFL Beau - 'He's Not Dating Me For Fame'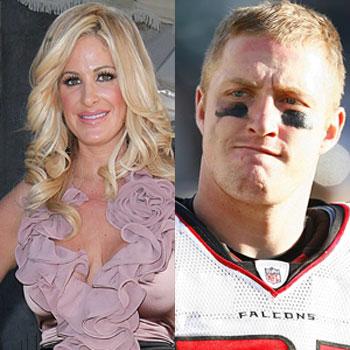 Real Housewives of Atlanta star Kim Zolciak has been enjoying a personal life overhaul and recently opened up about her new younger man, defending him against allegations that he's dating her to raise his profile.
PHOTO: Kim Zolciak Strips Down For A Cause
Since splitting with "Big Poppa" -- the married man Zolciak famously spoke about dating on the reality show -- she has been in a relationship with Atlanta Falcons player Kroy Biermann.
Article continues below advertisement
"People keep calling me a cougar. But I'm 32, he's 25," she said during a conference call to promote the Bravo show's third season. "We just have a great connection and we're still together. It's been over 5 months. He's just fantastic. I'm really happy, I'm in a great place... He's great, I mean, he's great with my girls. He's not 25 out partying every night and that kind of thing. He doesn't have that mind frame and maybe that's why it worked.
"I mean whether he's younger or not is irrelevant."
She also opened up about rumors that Biermann is dating the reality star to increase his visibility.
"He hates the publicity," she said adamantly. "When it first hit the fan it was a little stressful for him and I. He's from Montana. He's not into the press."
She adds that he recently refused to go on camera with her. "He said no, he's not going to do anymore on camera. He just doesn't like it. At the end of the day we know what goes on behind closed doors. He doing fantastic with or without."
Article continues below advertisement
In fact, even Biermann's team is keeping a lid on the romance. "Being with him and going to the football games and going to his practice and doing all those things it almost becomes a problem because the Falcons want it to be about the Falcons -- not about Kim attending a practice or Kim attending a game. So it's been a little bit difficult.
"We're kind of passed that now but I'm 100% positive he's not into the fame."
While she says "Big Poppa" will always be in her life (he even let her keep the massive engagement ring he gave her), Kim is looking forward to the future which includes an advice book about "how to land your own 'Big Poppa'" and a new single Google Me that will be out on October 5.
Season 3 of The Real Housewives of Atlanta premieres on October 4 at 9/8c on Bravo.
RELATED STORIES: