Exclusive
ON YOUR RADAR 2012: The Biggest & Baddest Celebrity Feuds Of The Year!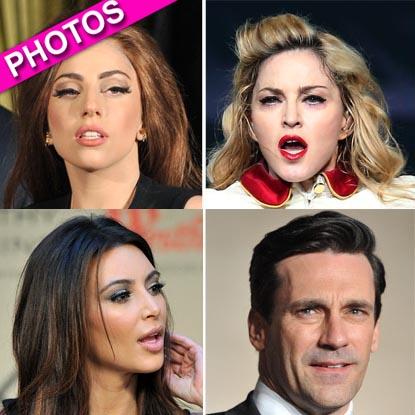 With the Mayan calendar ticking away, tensions were escalated quite a bit in 2012, and the celebrity population was not exempt from the bad blood.
Some of the issues that started the feuds tapped right into the vein of pop culture, be it the Kardashian family's all-sizzle, no-steak approach to show business; Chris Brown's inability to distance himself from his 2009 goring of Rihanna; Mel Gibson's inability to take a deep breath and count to 10; and whether Lady Gaga is this generation's pop's princess or just a "reductive" rip-off of the original.
Article continues below advertisement
Other tiffs were instigated by issues not just the rich and famous go through -- a fierce custody battle, jealous in-laws, love triangles and the like.
So enjoy the biggest feuds of 2012, and be glad you're not apart of any of these messes...
Kim Kardashian and Jon Hamm
The critically-acclaimed actor, who plays Don Draper on the hit AMC series Mad Men, locked horns with reality TV's biggest star after Hamm told Elle UK that Kim's popularity, in part, stems from the fact that "being a f---ing idiot is a valuable commodity" in this day and age. Kim was not amused calling the actor's comments "careless." Hamm stood his ground, saying the Kardashian TV empire is "a part of our culture that I certainly don't identify with, and I don't really understand the appeal of it other than in a sort of car crash sensibility."
Article continues below advertisement
Chris Brown and CM Punk
Chris Brown can't win over all of the people all of the time. While the R&B heartthrob's career has sufficiently recovered nearly four years after he infamously pummeled Rihanna, his reputation is a different story. After WWE superstar CM Punk said he'd like to see the singer "fight somebody that can defend themselves," Brown countered that the wrestler's steroid intake "has made it utterly impossible for him pleasure a women." Punk retorted with a YouTube video saying he's a life-long, proud, drug-free straight-edge individual" and predicting that "someday, somewhere, somehow, somebody will put Chris Brown exactly where he belongs, and it doesn't have to be me, I would just really like it to be."
Don Lemon and Jonah Hill
The CNN anchor and comedy actor got off on the wrong foot after a chance meeting at a hotel left Lemon sour, feeling Hill was a little too high and mighty in the exchange. The war of words commenced after Lemon tweeted, "Said hi to @jonahhill in hotel. Think he thought i was bellman. Didn't know his name til bellman told me. A lesson to always be kind." Hill responded, "I said hi what do you want me to do move in with you? I was in a hurry. Didn't realize you were a 12 year old girl. Peace … I walked out of the restroom and found you waiting for me. Shook hands, said hi and was on my way. Sorry if you found that rude." Lemon later remarked the Super Bad star "treated me like the help," adding he'd "been taught by mother to always be kind to people."
Article continues below advertisement
Nicki Minaj and Mariah Carey
Tough to say whether this was a clash of egos, a well-orchestrated publicity stunt by American Idol to herald its' dueling divas, or a little of both -- either way, it created quite the stir. Things didn't get on the right foot between the two, and the fireworks began when the Super Bass singer exploded on Mariah during the show's North Carolina auditions, telling producers "I'm not f***ing putting up with her highness over there -- figure it the f*** out, figure it out." It got worse when Minaj threatened to pull a gun on her fellow judge, who claimed she had to beef up security after the bold statement. Asked his opinion on the matter, President Barack Obama predicted, "I think that they are going to be able to sort it out ... I think both outstanding artists are going to be able to make sure that they're moving forward and not going backwards."
Madonna and Lady Gaga
For three years, Madonna watched as Lady Gaga ascended to the elite levels of superstardom doing what many said was an updated version of her act -- most notably the 2011 smash hit Born This Way, which some saw as remarkably similar to the Material Girl's 1989 hit Express Yourself. The tension erupted in 2012, when Madonna called the single a "reductive" effort at replicating her old mojo, calling Gaga's act "amusing and flattering and well done." After Madonna started using pieces of Born This Way on her tour, Gaga answered back, saying she doesn't "give a f**k what people say" before launching into a cover of Madonna's Like A Prayer.
Article continues below advertisement
Melissa Gorga and Teresa Giudice
The Real Housewives Of New Jersey's entire fourth season centered around the family feuding between Teresa and her sister-in-law Melissa, with Teresa using her flunkies to imply Melissa, in her pre-reality TV days, used to take it off at the Elizabeth, New Jersey strip joint Looker's to make ends meet. The entire accusation was settled in the show's reunion episode when it was revealed that Melissa had not ever stripped -- but her husband Joe had!
Halle Berry and Gabriel Aubry
Things have gotten quite ugly in the custody battle between the gorgeous Oscar winner and her hunky baby daddy, who share a daughter named Nahla. The escalating tension culminated in a Thanksgiving Day fight between the French Canadian model and Halle's current beau, French actor Olivier Martinez, that left Aubry battered -- and in handcuffs after he was arrested. Earlier in the year, Berry and Aubry were in and out of court, as Halle unsuccessfully attempted to get permission to move to France, citing fears for her safety and aggressive paparazzi laws.
Article continues below advertisement
Rihanna and Karrueche Tran
It's almost unseemly that two drop-dead gorgeous women, with their pick of just about any man, would publicly humiliate one another over the affections of a convicted woman beater, but that's pretty much what happened this year between the model and A-list singer. As RiRi and Brown slowly rolled out their reborn relationship with the public warily looking on, the We Found Love singer got in plenty of digs, tweeting in March, "Ima make u my b***h" with a picture of a bag of rice cakes, which some felt was a covert dig at Karrueche, who is who is half-Vietnamese. Karrueche later blasted back, "I'm Angeline, you're Jen. C'mon you see where Brad is at." Brown practically reveled in the drama, posted a video titled The Real Chris Brown online in which he subtly boasted about the beauties vying for him. In it, he said, "Is there such thing as loving two people? I don't know if that's possible, but for me, I feel like that." To be continued in 2013, we suspect …
Mel Gibson and Joe Eszterhas
Two years after we unveiled his crazed conversations with ex Oksana Grigorieva, Mel Gibson was caught on tape going nuts again, this time against screenwriter Joe Eszterhas, a collaborator on his ill-fated Maccabees project. After the two had a falling out over creative differences in regards to the planned film, the Basic Instinct writer went public with the feud, saying he heard Gibson threatening to kill Oksana; calling the Holocaust "horses**t;" and claiming "the Torah made reference to the sacrifice of Christian babies and infants." Eszterhas then released another tape of Gibson, in which The Passion director shouted, "I am earning money for a filthy little c******ker who takes advantage of me! Just like every motherf***er! Who wants to eat? Who the f**k wants to eat?, f***ing c**t! C******ker! W**re!" Gibson responded, admitting he's a "passionate and intense" artist, and claiming Eszterhas's failure to complete the script caused him to "react more strongly than I should have."
Article continues below advertisement
Hope Solo and Brandi Chastain
Not one to back down from a fight -- or hesitate to start one, for that matter -- soccer beauty Hope Solo publicly called out shirt-ripper-turned commentator Brandi Chastain for what she felt to be substandard work as a commentator during the summer Olympics in London. After the U.S. team's win over Colombia, Solo tweeted, "Its 2 bad we cant have commentators who better represents the team & knows more about the game! Lay off commentating about defending and gking until you get more educated … the game has changed from a decade ago." Brandi wisely took the high road, defending herself in saying, "I'm here to do my job, which is to be an honest and objective analyst at the Olympics." Solo continued ripping Chastain in subsequent interviews, saying, "I think analysts and commentators should bring energy and excitement and passion for the game, and a lot of knowledge, and I think it's important to help build the game, and I don't think Brandi has that."