Chris Brown & CM Punk Take Gloves Off In Vicious Twitter War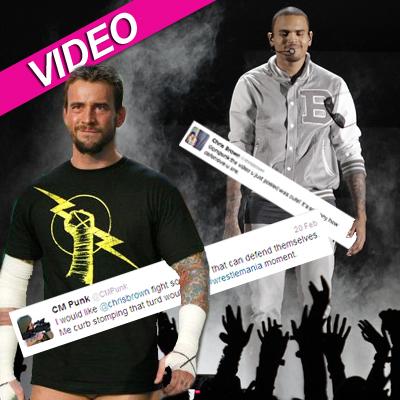 By Adam S. Levy - RadarOnline.com Staff Writer
Rihanna might have forgiven Chris Brown, but WWE champion CM Punk has no love for the R&B star, who continues to grapple with his tarnished image three years after his brutal beating of the Umbrella singer left her hospitalized.
The two young men, at the top of their respective fields, have taken to Twitter in an increasingly personal and hostile war of words after the WWE's cash cow, 33, ripped the Grammy winner, 22, hours after his surprising musical collaborations with RiRi went public Monday.
Article continues below advertisement
Punk tweeted to his 683,000 followers, "I would like @chrisbrown fight somebody that can defend themselves. Me curb stomping that turd would be a #wrestlemania moment."
Brown, known for his loose trigger finger on Twitter, shot back at Punk, writing to his 8.2 million followers, "@CMpunk needs more followers. He's such a leader! Not to mention the roids hes on has made it utterly impossible for him pleasure a women."
Watch the video on RadarOnline.com
Punk -- whose wrestling gimmick in part, incorporates his drug-free lifestyle -- retorted with a Youtube video prior to Tuesday's taping of WWE's Smackdown, in which he showed why his verbal skills have landed him at the top of WWE cards without a Schwarzenegger-esque build.
Tommy Dreamer: 'I Saved CM Punk's Job ... Twice!'
Punk said of Brown,"Now that he's thrown accusations my way about using steroids, I feel the need to reply, so please allow me to retort. I'm a life-long, proud, drug-free straight-edge individual, so Chris and I come from two completely different worlds: I don't have a manager, I don't have a bodyguard, I don't need a bodyguard. I don't have an assistant, I have no need for a PR team to tell me what to tweet or when to delete tweets ...
Article continues below advertisement
"And I don't hit women."
EXCLUSIVE DOCUMENTS: Read Chris Brown's Probation Progress Report
Punk went on to say that "in this life, there are consequences and repercussions for people's actions, and I don't think Chris has paid for what he's done -- picking up trash on the side of a highway does not make amends for repeatedly striking a woman in the face and sending her to a hospital.
Punk then challenged Brown to "put some gloves on and get in the ring" with "all proceeds going to a women's shelter of my choosing.
"I will choke you out, and I will make you feel as weak and as powerless and scared and alone as any woman who has had the misfortune of knowing a sad cowardly little boy such as yourself," Punk said. "But I'm also a realist, and I know that none of these things will happen because Chris Brown isn't a man.
"That's fine, I just know that someday, somewhere, somehow, somebody will put Chris Brown exactly where he belongs, and it doesn't have to be me, I would just really like it to be."
Article continues below advertisement
Brown had to get his two cents in after the video was posted, tweeting: "@cmpunk the video u just posted was cute! It's so funny how defensive u are. And the fact that I really don't know who you are and could give a expletive is the funny part! I really hope this 15 minutes of fame is paying you for the long run becuz music last forever! Wrestlers come and go according to ratings!"
Brown, throwing a nod to the classic superstars of the 80s and 90s, said Punk can hardly match up to the legends of yesteryear.
"I miss the real wrestlers! (Hacksaw Jim duggan, Brett the hitman heart, coco beware, rowdy roddy piper) #Notnopunks. THE ROCK #Notnopunks."
Punk's response: "#aintnowomanbeater."
Brown's new album Fortune hits stores March 16.