Listen To Mel Gibson's Insane, Profanity Riddled, Crazed Rant At Joe Eszterhas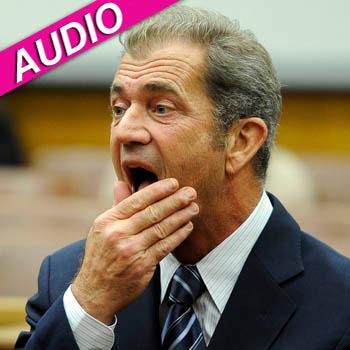 By Jen Heger - RadarOnline.com Assistant Managing Editor
WARNING: THIS STORY CONTAINS VERY EXPLICIT LANGUAGE.
Audio recordings of Mel Gibson in an epic meltdown have emerged which were allegedly recorded in Costa Rica last December, by Hollywood screenwriter, Joe Eszterhas' son, Nick, in which the devout Catholic can be heard screaming, "f**king c**t" amongst other profanities, RadarOnline.com is reporting.
As previously reported, Eszterhas, who was slated to write the screenplay for the Gibson project The Maccabees, wrote a scathing letter to Mel where he leveled the claim that Gibson "hates Jews," called the Holocaust "horses**t" and threatened to have his ex killed.
Article continues below advertisement
The latest Gibson rants surfaced about two years after Mel was caught in a series of violent voicemails threatening to kill his then girlfriend Oksana Grigorieva, which RadarOnline.com exclusively obtained. Eszerthas alleges that Gibson also threatened to kill Oksana, or have his FBI buddies do it for him.
In the shocking new recording, Gibson blows a gasket during a disagreement with Eszterhas, who was at the Hollywood actor's Costa Rica vacation home. In the audio, which was obtained by The Wrap, Mel is heard screaming, "I go to work, you're getting paid, I'm not! S**t! I am earning money for a filthy little c**ksucker who takes advantage of me! Just like every motherf**ker!"
Mel spews the F word at least seven times, and then just totally loses it, ranting "who wants to eat? Who the f**k wants to eat?, f**king c**t, c**ksucker whore."
Unlike his vile tirade against his ex, where he one time threatened to bury her in a rose garden, for which he never apologized, Gibson responded back to Eszterhas' claims without addressing any of the specific hateful rants Eszterhas accused him of.
MORE ON:
hollywood happenings
Article continues below advertisement
"I will acknowledge like most creative people I am passionate and intense," Gibson told Deadline.com in an open letter last week.
Gibson remains on probation for his no contest plea in the battery case involving Oksana Grigorieva.
Story developing....