Exclusive
EXCLUSIVE AUDIO: Out Of Control Mel Gibson Says He'll Burn Down House After Demanding Sex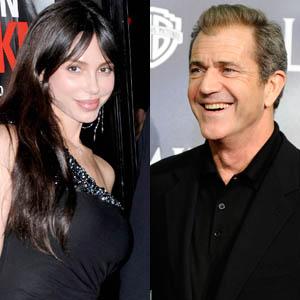 WARNING: This audio may not be reproduced or republished.
An out of control Mel Gibson demands sex from his girlfriend and tells her he will burn down the house afterwards in one of the most bizarre and outrageous segments of audio obtained exclusively by RadarOnline.com.
New Mel Audio Released: He Comes Unglued
Raging and panting, Gibson tears into then-girlfriend Oksana Grigorieva, berating her for apparently falling asleep the night before without giving him sex.
Article continues below advertisement
And it isn't long until he threatens her with physical violence, telling her he'll burn down the house, but first she WILL give him oral sex.
It's a twisted combination of misogynistic emotional violence and rage combined with a dark threat of physical harm as Gibson rages that Oksana fell asleep before they could go into the Jacuzzi together and have sex.
Gibson screams: "I deserve to be blown fast! Before the f*cking Jacuzzi! Ok, I'll burn the goddamn house up, but blow me first! How dare you!??!"
Article continues below advertisement
Gibson is being investigated by the Los Angeles County Sheriff's Department on domestic violence allegations. In audio previously posted exclusively by RadarOnline.com, Gibson admits to hitting Oksana and threatens to kill her. At one point he talks about taking a baseball bat to the side of her head, and in another segment of audio he says he'll bury her in a rose garden.
In our new exclusive audio, Mel's agitation grows until he is out of control and spewing more vile and hateful rhetoric.
At one point he screams at Oksana: "I should've woken you up and said f*cking blow me bitch! I should've f*ckin' woken you up and said blow me! You would've liked that better, yeah? But you need the goddamn sleep!"
Oksana protests that she waited for him the night, before but fell asleep, and that sends Mel into a new rage.
"Waited and waited," Mel bellows. "What, two and a half f*cking minutes!? You're f*cking snoring. Don't you dare."
Article continues below advertisement
Mel also admits during the conversation that he's seeing a therapist and yells at Oksana: "You wanted the number of my therapist? Don't you ever speak to him! Find your own goddamn therapist! Because you've got problems more than me!"
But Mel's problems are mounting. Oksana told sources she taped Mel because he threatened to kill her, and the segments obtained exclusively by RadarOnline.com include threats of harm. Both have filed restraining orders against each other under seal as they engage in a custody battle.
In addition, sources close to Oksana say Mel punched out her two front teeth in a Jan. 6 incident.
The tapes obtained exclusively by RadarOnline.com were made this year after that incident.
The audio released by RadarOnline.com seems to indicate the couple is still together at the time it was recorded. They have spent the previous night together but their three-year relationship is clearly unraveling.
Article continues below advertisement
VIDEO: Oksana's Music Video – Directed By Mel
Toward the end of the tape Mel tells the Russian-born Oksana: "You gotta push my f*cking buttons. And it's not going to work with us! It's not! I can't get like this anymore!
"And you know you're doing it and you're a liar and you're dishonest and you're f *cked up! So you stay the f *ck away from me! Take care of your f *cking son and I better have my daughter!"
The tape ends abruptly.
Several sources have claimed that Mel will try to accuse Oksana of extortion. The couple reached a settlement in May through mediation, but that settlement has since blown up.