Exclusive
EXCLUSIVE AUDIO: Another Mel Gibson Slur Caught On Tape In Crazed Rage - Listen To It Here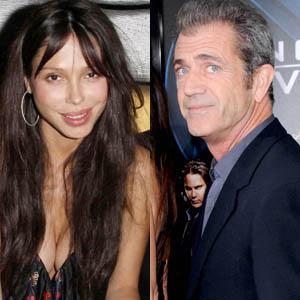 Warning: This audio may not be reproduced or republished.
Mel Gibson is caught using yet another ethnic slur while going on a crazed rampage on new audio exclusively obtained and released by RadarOnline.com.
During a bitter argument with Oksana Grigorieva, the mother of his eight-month-old daughter Lucia, the embattled actor refers to a Latino worker as a "wetback."
It's yet another hateful outburst from the Braveheart star, who is being investigated by the L.A. County Sherriff's Department on domestic violence charges.
Article continues below advertisement
And the slur is bracketed by Mel once again losing control and flying into a profanity-laden, misogynous rage as he accuses Oksana of cheating and using him.
This time Mel also gives a hint that he's experiencing overall money problems, as well.
"You're a f*cking mentally deprived idiot," Mel screams at one point. "You're a f*cking using whore…I own you," he rages. "You don't count."
WARNING: This audio contains graphic and profane language. That language has been left unedited so that the full impact of Mel's rant can be heard.
Gibson argues with Grigorieva over someone who works at both their houses, and insists that the woman can work only at his house now. When Oksana says that she needs the worker because she has the baby, Mel explodes and calls the woman a "wetback."
The star is clearly heard on audio saying, "I will fire (name omitted) if she's at your house. I will make it known and fire her. I'll report her to the f *cking people that take f *cking money from the wetbacks, ok?"
Article continues below advertisement
Toward the end of the tape Mel drops a strong hint that despite the tens of millions of dollars he's made, he may be having financial problems. "I'm paying my tax money instead of the credit card (bill). Don't you get it?!" he screams.
RadarOnline.com released exclusive audio on July 9 of Mel telling Oksana that she was dressed too provocatively and would be "raped by a pack of n*ggers."
His hate-filled speech has caused many to speculate that his Hollywood career may be over, wondering how much racism fans are willing to endure. The William Morris agency dropped Gibson as a client last week after RadarOnline.com released the tape with his vile rant on July 9.
Gibson and Grigorieva are embroiled in a brutal war since their breakup. She filed a restraining order under seal against him several weeks ago and he countered by filing orders against her – also under seal.
In the new audio released by RadarOnline.com, Mel, a staunch Catholic, continues to spew profanity at Oksana, claiming she has spent all her money. But this time she fights back and points out that she has no money and ridicules him for calling her a gold digger.
Article continues below advertisement
The Russian-born beauty, who had Mel's financial backing as she attempted to launch a music career, insists that she has no claim to Mel's money and attacks him for trying to control her every move.
"You made me moneyless." Oksana tells Mel. "I used to have hundred thousand dollars a year when you met me. You took me, you possessed me. Everything I am you own me with my liver and my kidneys and my thoughts and my soul. Everything! My career, whatever it is. Pathetic career. Whatever it is, it's yours. You control me like marionette. I don't belong to myself, only to you. I can't do anything and I walk on eggshells always with you!
MORE ON:
Oksana Grigorieva
Mel, whose profane outbursts have shocked America, answers her: That's because you're a f *cking using whore! Now, I own you."
As they continue to argue, Mel loses control, screaming "f*ck you. You're a f*cking whore."
He also accuses her of cheating. When Oksana tells Mel, "I've given you everything. I've been your woman. I've given you a child," he simply explodes.
"You would have done it for any f*cking (person)," Mel screams. "You probably f*cked (name omitted). I know you did."
Article continues below advertisement
The tape was recorded this year by Oksana. She told sources that she was scared for her life because Mel threatened to kill her. RadarOnline.com has released audio containing two death threats from Mel to Oksana.
EXCLUSIVE VIDEO: Mel & Oksana Talk To RadarOnline.com In Happier Times
In this newly released audio, Mel and Oksana bitterly argue over the breakup of their three-year relationship.
She says: "I've never had a bad word said about me in entire life. And then you're telling me you're taking away whatever pennies you've given me? I don't have anything because I've given you my life. Three years now!"
But Mel rages: "I gave you everything. Don't you dare f*cking complain to me! I don't f*ckin' hear you! You don't f *cking count! You're a f*cking using whore!"
After Mel berates her for using him for money, Oksana fights back, telling him he's mentally ill and pointing out that she has no claim to his assets, saying "I'm not the whore and I'm not the bitch and I'm not the c*nt and I'm not the user and I'm not the thief and all those words. And I'm not a liar. All this, all this lies. All this lies. I'm not a whore or c*nt or thief or prostitute or anything that you call me. I'm not a user. I'm not a gold digger. I don't have any money and no property assigned to me. That's a gold digger for you? Are you insane? Yes, you are of course. We can hear that because you're screaming."
Article continues below advertisement
Mel financially backed Oskana's music career and when he curses her for the money spent she tells him: "Nobody asked you to spend so much money on the videos and everything."
But the ugliest and most vitriolic exchange is comes toward the end of the conversation when Mel launches into another rant and tells Oksana: "you f *ckin' ignorant bitch?! I don't understand you! You're saying stupid sh*t! How dare you f *cking even insult me with some of the stupid reasoning you have? Your logic sucks, because you're a f *cking mentally deprived idiot!"
The conversation ends with words over their baby, a battle that continues today as Mel fights for custody and Oksana, according to sources, is so disgusted by his behavior that she wants to keep him away.
At the end of this conversation, a particularly nasty piece of dialogue tells the story:
Mel: Go look after my child!
Oksana: She's my child too.
Mel: Yeah I know, unfortunately you c*nt whore! I hope she doesn't turn out like you!