Rihanna & Chris Brown Caught Making Out In NYC Club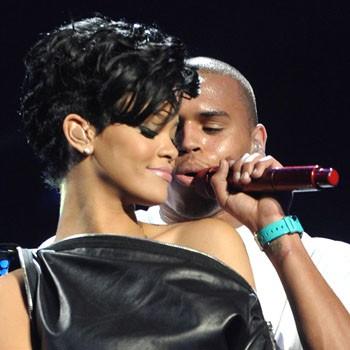 Rihanna and Chris Brown have found love in a hopeless place, because the former couple is heating up again and was even spotted making out recently according to a new report.
The rendezvous took place Monday night at the New York City nightclub Griffin with an eyewitness seeing them get very affectionate, Us Weekly reports.
The same day the one-time couple reportedly hooked up, Chris tweeted, "Happiness is the one thing I'm never guaranteed..... How can U expect me to guarantee yours?"
Article continues below advertisement
This isn't the first time in the years since Chris was charged with a violent assault on Rihanna in 2009 that the two have secretly hooked up.
As RadarOnline.com exclusively reported, Rihanna secretly hung out with Chris in June the night after he was involved in a bar brawl with fellow musician Drake and ended up with stitches in his chin.
"Chris and Rihanna hung out at Jay-Z's 40/40 Club all night and it was clear that she loved the attention he was giving her," an insider told RadarOnline.com.
"Those two have a thing for each other that will never die, no matter what, and they're on their way to really being back together. Chris just adores her. And she tended to him, making sure the gash on his chin from the fight was okay."
And then in September at the 2012 MTV Video Music Awards, Rihanna was caught on camera giving Chris a kiss while the two exchanged pleasantries in the audience.
Chris received five years of probation, community labor and one year of domestic-violence counseling in connection with his beating of the Umbrella singer.