Exclusive
Drake Started Fight, Threw Bottle At Chris Brown 'Multiple Eyewitnesses' Tell Cops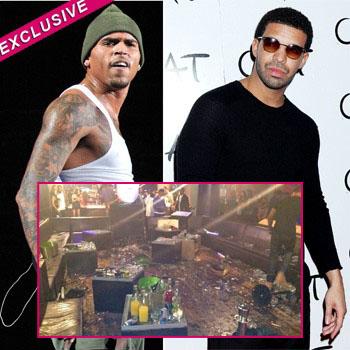 Article continues below advertisement
"Independent eyewitnesses have told detectives from the New York Police Department that Drake absolutely started the fight by throwing a bottle at Chris," a source close to law enforcement tells RadarOnline.com. "It was intended to hit Chris and no other person. None of this would have happened if Drake hadn't thrown the bottle. It was extremely loud in the club and there was a lot of yelling. Once Drake threw the bottle at Chris all hell broke loose. There is no evidence that Chris instigated the brawl, he only acted in self defense and he got out of the club as quickly as possible."
Meanwhile, Drake has vehemently denied starting the fight.
"Drake did not participate in any wrongdoing of any kind last night at W.i.P. He was on his way out of the club when the altercation began. Drake did not engage in any activity which resulted in injury to person or damage to property," his rep said in a statement.
"The club is outfitted with extensive security cameras that caught the entire fight on video. If the NYPD wants to get to the bottom of this quickly they need to review that footage as soon as possible," the insider says. "The nightclub isn't under any obligation to voluntarily turn it over, but cops could get a search warrant and/or subpoena to obtain it.
Article continues below advertisement
"It's extremely likely that criminal charges are going to be filed as a result of the melee. There were just too many injuries and the club suffered extensive damages. The cops aren't taking this lightly at all."
Brown is currently on felony probation after assaulting then-girlfriend, Rihanna three years ago. It has been reported that the Barbadian-born beauty was the cause of the fight between Brown and Drake.