Exclusive
Chris Brown's Lawyer In New York City Dealing With Drake Nightclub Brawl!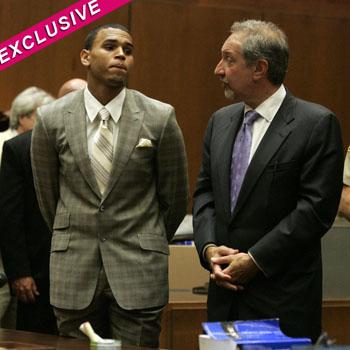 By Jen Heger - Radar Assistant Managing Editor
Talk about being in the right place at the right time!
Chris Brown's famed lawyer, Mark Geragos is in New York City and talking to detectives from the New York Police Department regarding the nightclub brawl the R & B singer was involved in with fellow entertainer Drake, early Thursday morning, RadarOnline.com is exclusively reporting.
A physical fight broke out between the two at WIP nightclub in New York City and sources say they were fighting over Rihanna. As evidenced by the exclusive photos obtained by RadarOnline.com, the club was virtually destroyed in the wake of the brawl.
Article continues below advertisement
"There was blood all over," an eyewitness said. "Both of their entourages got involved and it all got really out of control really fast. The club was unrecognizable afterwards!"
"Chris quickly called his lawyer in the minutes after the attack. Contrary to reports Chris didn't flee from the scene, it was a very fluid situation and Chris just wanted to make sure that his girlfriend, Karreuche Tran, was safe," a source close to the singer tells RadarOnline.com. "Luckily for Chris, his attorney happened to already be in New York City and he has been talking with detectives from the NYPD and with management at the nightclub. Chris, Karreuche and other members of his entourage will fully cooperate with law enforcement."
Brown's publicist released a statement, "Chris, Karrueche Tran and his friends were victims of a brutal attack last night at WIP. They sustained several injuries. Chris and his party are cooperating with NY authorities who are pursuing this incident further."
After the fight Chris tweeted a photo of himself with a bloody gash on his chin saying, "How u party wit rich n**** that hate? Lol... Throwing bottles like girls? #shameonya!," however, the Tweet was later deleted.
Article continues below advertisement
"Chris' handlers told him to take the picture and the Twitter entry down immediately. It just wasn't the right thing to do. Chris was obviously upset and recognized that he should follow the advice so he promptly did so. Chris will do whatever is asked of him and will be formally questioned about the club melee," the source says.
RELATED STORIES:
Drake & Chris Brown Fight: See The Explosive Aftermath Photos