Chris Brown Tweets Pic Of Himself With Gash In Chin After Scuffle With Drake's Crew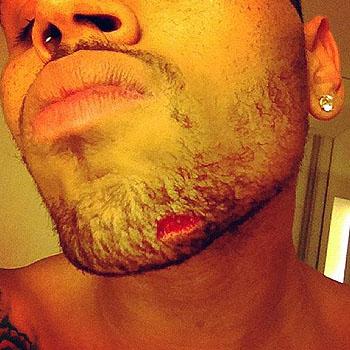 In a scuffle possibly instigated by a love rivalry over Rihanna, Chris Brown is recovering with injuries to his chin as a result of a clash with Drake's entourage at New York's WIP nightclub early Thursday, RadarOnine.com has learned.
Police said five people in all were mildly injured in the melee, though no one was taken into custody, according to reports. Neither of the hip-hop superstars were at the scene when authorities showed up.
Article continues below advertisement
Details of the confrontation have varied, as the Sun reported Drake instigated the scuffle after the Forever singer sent him a bottle of champagne at the club. He reportedly sent it back to Brown with an antagonistic note that read, "I'm f****** the love of your life, deal with it."
When Brown confronted Drake about the note, the Sun reported, Drake punched him.
Brown took to his Twitter page in the wake of the incident, tweeting a pic of his injury and writing, "How u party wit rich n**** that hate? Lol... Throwing bottles like girls? #shameonya!."
He also wrote "N***** is pu**ys," and "N***** throwing bottles! Y'all n***** weak," though later deleted the photo and emotionally-charged tweets.
Drake, who collaborated with Rihanna on the hit single What's My Name, dated the Umbrella singer in the spring of 2009, shortly after she and Brown split after he infamously beat her.
In addition to Drake & Chris, the Only Girl singer has been been romantically linked to baseball slugger Matt Kemp and TV star Ashton Kutcher.