Hope Solo's Husband Jerammy Stevens Arrested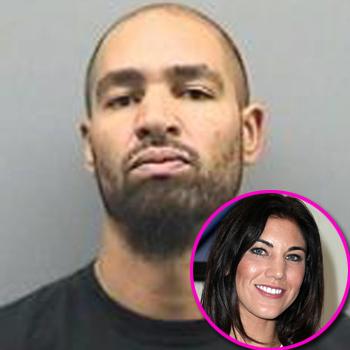 Olympian Hope Solo's husband Jerammy Stevens was arrested Wednesday in Florida in connection with a possible violation of his probation, RadarOnline.com has learned.
The one-time NFL tight end, 33, had been on probation in Florida linked to a previous cannabis possession charge, according to officials.
A Department of Corrections spokesperson said the violation is likely tied to a stipulation in Stevens' Florida probation that the former Seattle Seahawk couldn't get arrested while in Washington state, which he did during a November 12 fight with his now-wife earlier this month, KING-TV reported. (The case was subsequently dropped.)
Article continues below advertisement
Solo, the 31-year-old goalkeeper of the U.S. women's soccer team, who went on to compete in Dancing with the Stars, is no stranger to controversy. She wed Stevens right after the incident after a whirlwind two-month courtship.
On Tuesday, Solo, practicing with the U.S. national team in Portland, Oregon, told reporters her life is currently ''great'' and "happy."
"It's unfortunate what the media can do to judge before the facts are out there," she said. "It's hard to see, but it's a hard truth, and it's part of life. I'm happy. I'm happily married.