Hope Solo Claims She Was Shunned By U.S. Soccer Team After Being Accused Of Treason!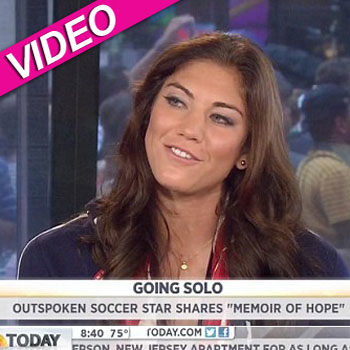 In her new book, Hope Solo says she was ostracized -- and accused of treason -- by her teammates after she groused publicly over her benching in the 2007 FIFA Women's World Cup, which ended for the United States when they lost a semi-final game to Brazil.
The 31-year-old Dancing with the Stars alum, appearing on TODAY Tuesday, said she has no regrets about the acidic barbs five years ago.
Article continues below advertisement
"I am who I am and I'm proud of that," the outspoken Solo said. "I do believe back in '07 I would have made those saves … I'm confident in who I am as a player and as a person … I would have made a difference.
"I want to win for our country -- how can people be angry about that?"
The gorgeous Solo laughed off Savannah Guthrie's question if she seeks out controversy.
In the tome, Solo spared no detail about the shunning she received from her peers when speaking up after she was replaced by a then-36-year-old Briana Scurry. After she told the media "it's not 2004 anymore," (a dig at Scurry), the rest of the team called her in for a thorough dressing down in their Shanghai hotel.
"Our team captain Kristine Lilly … said the veterans wanted to talk to me and asked if I would come to their room," Solo writes in the book. "I walked down the hall. By now it was after midnight. I pushed open the door of Lil's room and saw the veterans grimly waiting for me.
"I walked across to the other side of the room and leaned against the wall. They had seen the interview. I was told that I had, in their opinion, basically committed treason."
Article continues below advertisement
Solo said her then-teammates told her "that you don't throw a teammate under the bus, that I had broken the code, that I had betrayed the team" and "had ruined everything this team was built on."
The fierce individualist said she was essentially forced to apologize twice to her teammates.
Solo: A Memoir of Hope is available now. (Apologies not included.)
Visit NBCNews.com for breaking news, world news, and news about the economy