Hope Solo Weds Jerramy Stevens, Day After Domestic Violence Arrest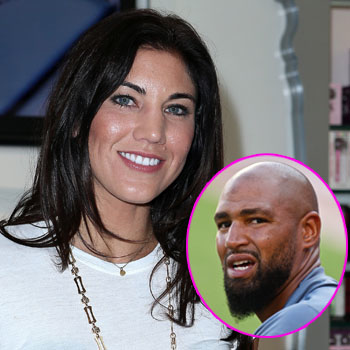 Hope Solo married her fiance, Jerramy Stevens Tuesday, just one day after the former NFL tight end was arrested on suspicion of assaulting the soccer star, RadarOnline.com is reporting.
As previously reported, Stevens was arrested early Monday morning in connection with a domestic assault at a Kirkland, Washington home.
During court proceedings Tuesday, Solo denied she was attacked by Stevens, and he was subsequently released by a Kirkland Municipal Court judge, who said there wasn't evidence he assaulted her. Police said they're still investigating, and the former Seattle Seahawks star could be charged if new evidence is discovered.
Article continues below advertisement
Meanwhile, the 'happy couple' went along with their wedding plans, saying "I do" later in the day, according to Sportsradio 950 AM and 102.9's Dave Mahler, who tweeted "Events of yesterday morning didn't change plans."
It's been a whirlwind romance for the former Dancing with the Stars contestant and the 33-year-old footballer — they had dated for a just brief two months before applying for a marriage license November 8.
Jillian Loydon, Solo's teammate also tweeted about the nuptials, "Happy to witness such an amazing celebration of real love #selflesslove #fewandfarbetween," she wrote.
RELATED STORIES:
Hope Solo Claims Dancing With The Stars Is Fixed!
Maksim Chmerkovskiy Tweets About 'Hypocrites, Liars' Following Hope Solo Accusation
Olympic Soccer Star Hope Solo's Lake Side Seattle Home: Take A Peek Inside!
Hope Solo Claims She Was Shunned By U.S. Soccer Team After Being Accused Of Treason!