Hope Solo Claims Dancing With The Stars Is Fixed!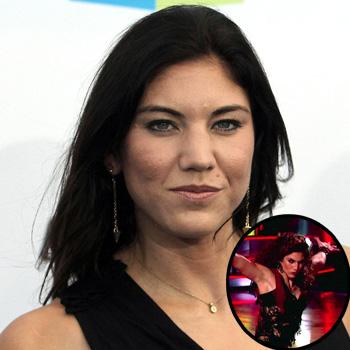 Olympic soccer stunner Hope Solo claims Dancing with the Stars is rigged, saying occurrences during her stint on the show's 11th season revealed the show's producers -- and not the audience of voters -- were actually calling the shots as to who would be eliminated in a given week.
The 31-year-old athlete had a stormy relationship with pro partner Maksim Chmerkovskiy en route to an eventual fourth-place finish, but says the Ukrainian beefcake revealed the show's ratings-driven ruse while they were partnered up.
Article continues below advertisement
Solo, in her new tome Solo: A Memoir of Hope, points to an incident in which Maks -- after learning via a "secret memo" he and Hope were scheduled to be eliminated -- stirred up trouble with the judges to milk the ensuing controversy for a few more weeks of airtime.
"Maks later told me that he had argued with the judges because he had been told we were going to be eliminated, that there was some secret memo going around that said who would be ousted each week," Solo wrote. "He explained that he wanted to cause some drama on the live portion of the show so that they wouldn't be able to resist keeping us around, hoping for more fireworks.
"It seems to have worked -- we weren't eliminated that week."
Insiders says the show's producers are livid with Hope, believing "she made up the allegations merely to sell books;" and that ABC is exploring legal options against the Olympian for her writings.
Chmerkovskiy is currently paired up with Kirstie Alley on Dancing with the Stars: All Stars.
For more details, pick up the latest issue of the National Enquirer, on newsstands Thursday.