Maksim Backtracks On DWTS: 'It's Not My Show'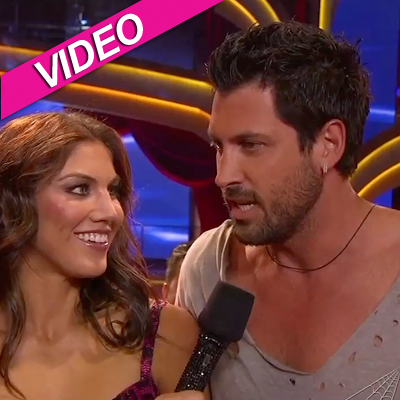 A night after claiming Dancing with the Stars "is my show," dancer Maksim Chmerkovskiy backtracks on his egotistical statement.
"It came out wrong ... it's not my show, I'm part of a very large cast am I'm very proud of being here," Chmerkovskiy, 31, said on Tuesday's show.
Referencing his co-stars and fellow dancers, the hunky professional said, "These guys out there are amazing!"
The apology Chmerkovskiy notably didn't make on Tuesday's show was to judge Len Goodman, who he told to retire in an uncomfortable moment on the show's Broadway-themed episode Monday.
Article continues below advertisement
As we previously reported, after Chmerkovskiy and his celebrity partner Hope Solo danced the rumba to the musical Rent, Goodman told Solo she'd just finished her "worst dance of the whole season" a comment which caused the crowd to jeer (encouraged by Chmerkovskiy).
Goodman referred to his five decades of experience in the craft to explain to Chmerkovskiy why the audience liked a dance the judges didn't.
"I've been in this business for nearly 50 years," Goodman, 67, told Chmerkovskiy who chirped back, "Maybe it's time to get out!"
"Don't be disrespectful like that!" judge Carrie Ann Inaba scolded.
Chmerkovskiy backtracked a bit, saying he didn't want to come off as disrespectful, but he and the other participants were tired of throwing their hearts into the show only to get stung by the judges' "judgmental comments."
Article continues below advertisement