Chaz Bono's Parting Words On DWTS: 'I Wanted To Show America A Different Kind Of Man'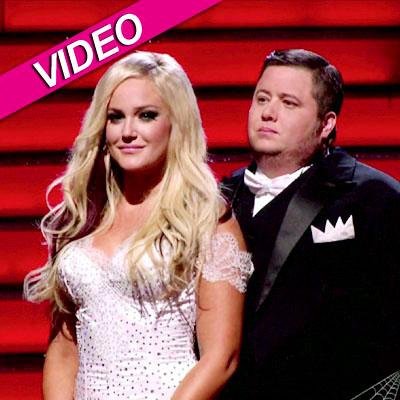 It's over for Chaz Bono on Dancing with the Stars.
The 42-year-old author/activist was eliminated Tuesday evening, a night after racking up the lowest score (19 of 30 points) from the judges for his Phantom of the Opera-themed tango with pro partner Lacey Schwimmer.
The first ever transgendered contestant on the ABC hit said he's pleased with the trail he's blazed in appearing on the primetime program.
Article continues below advertisement
"I came on this show because I wanted to show America a different kind of man," he said after he was voted off. "I know that if there was somebody like me on TV when I was growing up, my whole life would have been different."
Despite the legacy Chaz says he's proud to have left, he departs the show with hard feelings after taking a verbal razzing from the judges -- over the course of the show, Bruno Tonioli, specifically, compared him to a penguin, a basketball and an Ewok (George Lucas' fuzzy Return of the Jedi critters).
"We were upset, not with the scores but with the comments toward me personally," Chaz said. "We thought we did a good job Monday night."
Asked to follow up on those comments on his swan song Jimmy Kimmel appearance, Chaz said he wasn't holding a grudge, but "being compared to animals and round objects didn't help him mature as a dancer."
Chaz's world famous mom Cher wasn't a happy camper after her son's loss, blasting judges Tonioli and Len Goodman in a series of tweets.
Article continues below advertisement
The Believe singer wrote: "I Have Got 2Hold my TEMPER ! MY Tears R OK ! Congratulations Chaz I'm SO PROUD OF U ! This was YOUR Quest...& u Followed your Star.
"Thank u Carrie Ann 4 your Gentility u r beautiful inside & out ! To the Gentleman?I didn't know who u We're b4 which I guess is a blessing ! Going Home is Fine but why insult him b4 he Goes! Maybe Rudeness & Flapping Arms take the place of TALENT ! As for the Older Gentleman ....every Show Needs A Grumpy Old Man!"
She continued, "Sorry my Tweets came out of Sequence ! But u can figure it out if u try!Condensed version ...The Chick is beautiful & Polite ! The Men suck (sic)"
Following the show, Bono said goodbye, via Twitter, to his fellow castmates Nancy Grace, Chynna Phillips and Ricki Lake.
Watch the video on RadarOnline.com
"The worst part of being eliminated," he wrote, "is missing all your friends."
Following Chaz being voted off DWTS, GLADD (Gay & Lesbian Alliance Against Defamation) issued a statement.
Article continues below advertisement
"Chaz bravely put on his dancing shoes and became a fan favorite, showing millions of viewers that he's like any other guy," said GLAAD Acting President Mike Thompson. "Though it's sad to see him go, Chaz has helped countless people better understand what it means to be transgender. He should be commended for both his courage and determination. We hope Chaz's time on 'Dancing with the Stars' is just the beginning in a long line of transgender-inclusive programming across the media."
Dancing with the Stars returns Monday at 8/7c on ABC.