Chaz Bono 'Disappointed' After Low Scores On DWTS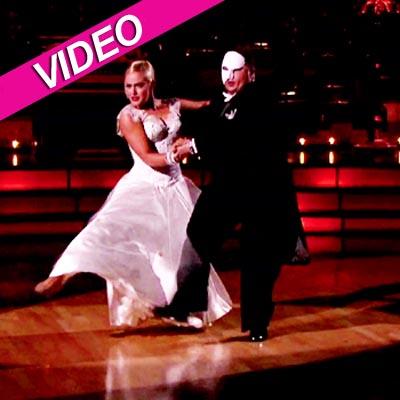 Chaz Bono, Dancing with the Stars' first-ever transgendered contestant, stumbled to the night's lowest scores on the show's Broadway night Monday, as his tango set to Phantom of the Opera, with partner Lacey Schwimmer, received just 19 of 30 points from the judges.
Bruno Tonioli told him, "That was a bit like a cute penguin trying to be a giant bird of prey ... it's just not your character."
Article continues below advertisement
This analogy upset Schwimmer, who complained in the post-dance interview, "Every week, he gets referred to as an animal ... they always comment on his personality, and last I checked, this was a dancing show."
Bono wasn't fazed by the comparison, saying he "came on here to show people a strong proud transgender man, and was not going to let the judges get him down."
He tweeted after the show: "Thanks to everyone 4 the supportive tweets. Tonight was rough, I thought @LaceySchwimmer did a good job. Scores were very disappointing."
Broadway night's other scores were: J.R. Martinez and Karina Smirnoff, dancing the quickstep to Chicago, 29 out of 30; Ricki Lake and Derek Hough, quickstep, Guys and Dolls, 29 out of 30; Nancy Grace and Tristan MacManus, foxtrot to Spamalot, 24 out of 30; David Arquette and Kym Johnson, quickstep to Grease, 23 out of 30; Rob Kardashian and Cheryl Burke, cha-cha-cha to Jersey Boys, 22 out of 30; Solo and Chmerkovskiy, rumba to Rent, 20 out of 30; Chaz Bono and Lacey Schwimmer, tango to The Phantom of the Opera, 19 out of 30.
We'll see if Chaz can survive a bad night when Dancing with the Stars returns Tuesday at 9/8c on ABC.