Purple Pride: Americans Unite To Fight Gay Bullying On Spirit Day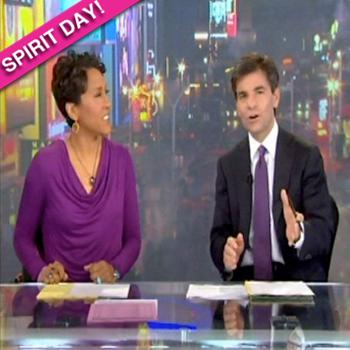 A cavalcade of notable people are wearing purple for Spirit Day on Thursday October 20, which aims to show support for LGBT teens and fight bullying, and the growing numbers of gay teen suicides.
"From Hollywood to corporate America to local grassroots advocates, Americans are taking a stand against bullying this Spirit Day and showing all LGBT teens that it's okay to be who you are," GLAAD President Mike Thompson said in a statement about the occasion, which is part of National Bullying Prevention Month.
Article continues below advertisement
Among those who've participated in the day's festivities include the casts of Good Morning America, The View and The Talk; and celebrities such as Cher, Ellen DeGeneres, Conan O'Brien, Chaz Bono, Dr. Drew Pinsky, Heather Graham, Carson Kressley, Ricky Martin and the casts of TeenNick's Degrassi and MTV's Jersey Shore and Teen Mom.
The issue of gay teen bullying has attracted increased attention in the past year with a number of high-profile stories, including:
Tyler Clementi: the 18-year-old Rutgers freshman jumped off the George Washington Bridge in September 2010, drowning himself in the Hudson River after his roommate outed him on Twitter.
Jamey Rodemeyer: the Buffalo, New York blogger, 14, put out a Youtube video called "It Gets Better" in May, encouraging gay teens to keep their heads up and persevere. Tragically, Jamey killed himself in September 2011 after enduring constant harassment from schoolyard bullies over his sexuality.
Article continues below advertisement