Zachary Quinto 'Incredibly Grateful' To Friends & Supporters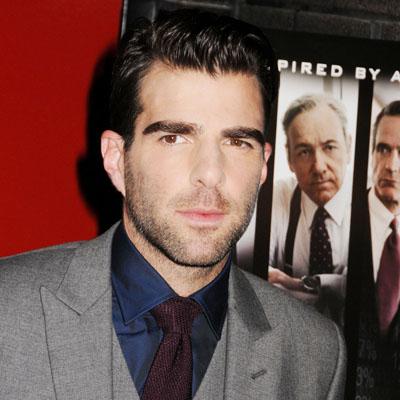 Zachary Quinto is once again thanking his supporters since coming out of the closet over the weekend.
"I feel so incredibly grateful to all of the people who've reached out to me directly or indirectly or just in spirit and I feel really, really like my entire future is laid out in a different way and it's thrilling and scary and overwhelming," Quinto, 34, told reporters Monday night on the red carpet of his new film Margin Call in New York.
Article continues below advertisement
He continued, "There've been people on this path who were much bigger trailblazers than me who did this at a time when it was even harder ... and if me standing up and making some kind of acknowledgement and declaration helps that, then I can't ask for anything more out of my life."
As we previously reported, the 34-year-old Star Trek star, discussing equality for gay people, told New York Magazine, "As a gay man, it made me feel there's still so many things that need to be looked at and addressed. And, as a gay man, I look at that and say there's a hopelessness that surrounds, but as a human being I look at it and say, 'Why? Where's the disparity coming from?'"
MORE ON:
hollywood happenings
Quinto subsequently blogged that the reason he decided to publicly declare his sexuality now was because of Jamey Rodemeyer, the Buffalo, New York teenager who killed himself last month after enduring constant harassment from schoolyard bullies over his sexuality.
Sadly, news broke Monday of the suicide of Jamie Hubley, 15. The openly gay Ottawa high school student -- who, like Rodemeyer, chronicled his experiences online -- killed himself after suffering similar taunts from classmates.