National Coming Out Day: Hollywood's Openly Gay Stars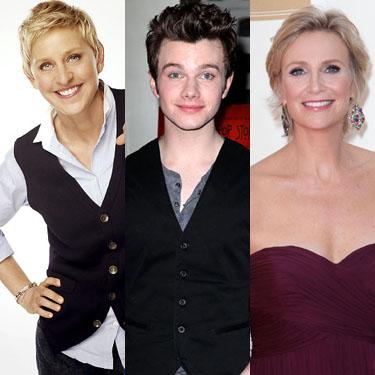 Today is National Coming Out Day, and so to mark the occasion, RadarOnline.com takes a look at some of Hollywood's most out and proud celebrities.
Talk show host Rosie O'Donnell said that before she publicly came out, her talk show audience was the only group of people in her life that didn't know she was a lesbian.
Fashion guru Carson Kressley said he had a "soft coming out" to his parents, who didn't know he was gay until he landed a high-profile TV show that said as much.
Article continues below advertisement
"You don't really say, 'Mom and dad, I'm gay' -- You say, 'I have a new show called Queer Eye for the Straight Guy, check it out.'"
Sex & The City star Cynthia Nixon said of publicly confirming she's a lesbian: "I was like, 'Really, we can just confirm?' So that's just what we did. It was so fantastic."
How I Met Your Mother Star Neil Patrick Harris, who came out publicly in 2006, said he wanted to quash the fires of media outlets that craved beating him to it. "The last thing you want to do is talk about your private life based on scandal," he said. "I'm not a very scandalous person."
GLAAD Calls For The NHL To Take Action Over Wayne Simmonds Anti-Gay Slur
Black Eyed Peas singer Fergie said in 2007: "I have had lesbian experiences in the past. But I started having sex quite late on -- after I was 18. I was raised a good Catholic girl. I won't say how many men I have slept with, although it's not many, but I am a very sexual person."
Comic Sandra Bernhard, in a video for the Trailblazer Project, said that she's always been open and confident about who she is. She encouraged members of the LGBT community to be proud of who they are, saying there's a whole network of people to reach out to when you're feeling funky about it. "Just stand firm and always feel confident."
Article continues below advertisement
Ellen DeGeneres made it simple for everyone in 1997, coming out publicly on the cover of Time magazine with the headline "Yep, I'm Gay." That same year, her character did the same on her sitcom, Ellen, to record ratings.
Southwest Airlines Fires Back — Claim Profanity Not Homophobia Prompted Actions
Portia de Rossi said: "Hiding your sexuality is the most horrible way to live and it really does a huge disservice to society; Because if everybody who was gay came out in every profession, teachers, doctors, if everybody came out and said, 'I'm gay. Who cares?' then it would make a big impact to what's happening with all this teenage suicide."
Elton John said, "I came out in 1973, at the height of my career, and yeah, it hurt me a little bit, but not that much, and it gave me the freedom to be who I was for the rest of my life. I don't have to hide around corners. The worst thing is to be afraid of who you are -- it's horrible. I didn't really want people to know who I was, I didn't have the courage of my convictions ... but the best thing I ever did was be true to myself."
Article continues below advertisement
The Good Wife's Alan Cumming took issue with the comments of fellow gay actors Richard Chamberlain and Rupert Everett after they publicly said that gay actors should stay closeted for their careers' sakes. "If you're living a lie, that's not healthy, and I think it is really irresponsible of Chamberlain and Rupert to say these things ... some people get less work than others, and it has nothing to do with sexuality."
Ricky Martin Tweets Outrage Over Jamey Rodemeyer Suicide
Family Ties star Meredith Baxter, a thrice-married mother-of-five, told us she felt compelled to come out because she wasn't comfortable with the social message she was sending staying closeted. She said since coming out, "It has been very gratifying, to get some understanding."
Hairspray director John Waters, asked if it's easier to come out now, said that "the coming out story is sort of corny to me. Now there's all these rules like you can't have gay villains in movies. I'm against all that. I'm for the rights of lesbians to be bad parents. I'm for not lowering any kind of standards because we're gay. The gay Olympics is offensive to me. What are we, handicapped? I believe gay doesn't make you better or worse. I know some gay a**holes and some of the smartest and nicest people I know are gay."
Article continues below advertisement
Star Trek legend George Takei came out in 2005, saying that "the world has changed from when I was a young teen feeling ashamed for being gay ... the issue of gay marriage is now a political issue. That would have been unthinkable when I was young."
For more information on National Coming Out Day, go to http://www.hrc.org/resources/entry/national-coming-out-day
RELATED STORIES: