Ellen Gets Ticketed After Lunch With Portia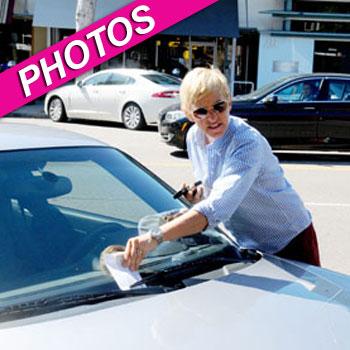 Ellen DeGeneres may be at the height of her popularity but that didn't stop the talk show queen from being brought down to earth Saturday -- with a parking ticket!
Ellen was with her wife Portia de Rossi and mom Betty, and the three enjoyed a leisurely lunch at the popular Beverly Hills restaurant, Frida Mexican Cuisine.
Ellen was as gracious as ever with fans and photogs, smiling and signing autographs. Then the fun stopped!
Article continues below advertisement
When the ladies returned to Ellen's car, she discovered she'd been ticketed!
Ellen insisted that the parking meter was faulty but she didn't throw a diva tantrum about it.
The "new Oprah," as she's being called, promised to pay the $58.
RELATED STORIES:
Ellen DeGeneres' Health Scare: 'I Was Feeling Tightness In My Chest'