GLAAD Calls For The NHL To Take Action Over Wayne Simmonds Anti-Gay Slur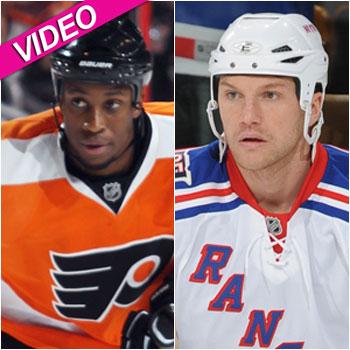 Hockey player Wayne Simmonds allegedly made a shocking anti-gay slur against rival player Sean Avery during a pre-season game on Monday night, and now the Gay & Lesbian Alliance Against Defamation (GLAAD) is demanding that the NHL make a stand against the homophobic comments.
As RadarOnline.com previously reported, the ugly epithet was uttered to New York Rangers star Avery by the Flyers player while he was on the ice near the Philadelphia team's bench, and the hateful interaction was caught on video.
Article continues below advertisement
Despite the video evidence and the media attention around the comment, the National Hockey League has yet to take action against Simmonds, and GLAAD is calling for the league to take responsibility.
Watch the video of the altercation on Towleroad (WARNING: Explicit Content)
"It is abundantly clear from video footage that an instance of anti-gay bias occurred," said Mike Thompson, Acting President of GLAAD in a statement to RadarOnline.com on Wednesday.
"League officials should revisit this matter and take action immediately. The NHL is severely out of touch at a time when leagues including the MLB and the NBA are taking stands against anti-gay bullying and steps to ensure their sports are welcoming to all players, coaches and fans."
On Tuesday, the NHL released a statement explaining how they do not currently plan to press charges against Simmonds as there is no evidence that he made the offensive slur.
Article continues below advertisement
While the league stated, "commentary directed at the race or ethnicity of other participants in the game (or even non-participants), or that is otherwise socially or morally inappropriate or potentially hurtful - including as it may relate to sexual orientation - is absolutely unacceptable and will not be tolerated," the statement went on to say:
"Since there are conflicting accounts of what transpired on the ice, we have been unable to substantiate with the necessary degree of certainty what was said and by whom," said NHL senior executive vice president of hockey operations Colin Campbell, reported USAToday.com.
"Specifically, Flyers player Wayne Simmonds has expressly denied using the homophobic slur he is alleged to have said. Additionally, none of the on-ice officials close to the altercation in question heard any inappropriate slurs uttered by either of the primary antagonists. In light of this, we are unable at this time to take any disciplinary action with respect to last night's events."
Simmonds claimed after Tuesday's practice that he didn't use the slur, which can reportedly be seen on the tape but not heard.
Article continues below advertisement
"(Campbell) asked me if I called him a gay slur and I said no," he told PhillyNews.com. "I said a lot of other things, but that wasn't one of them. There a lot of things I said to him — and obviously I'm not going to repeat them — but I didn't say that to him."
As RadarOnline.com previously reported, the victim of the slur, Sean Avery, is an outspoken advocate of LGBT rights and a strong supporter of same-sex marriage. In May of this year, he filmed a video for the New Yorkers for Marriage Equality Campaign.
"The places I've played and lived the longest have been in West Hollywood, California, when I played for the L.A. Kings and when I moved to New York, I lived in Chelsea for the first four years," the fashion-conscious player told the New York Times.
"I certainly have been surrounded by the gay community. And living in New York and when you live in L.A., you certainly have a lot of gay friends."
Simmonds was a victim of a very different kind of prejudice last week during a game in London, Ontario when a fan threw a banana peel at the Flyers forward, who is one of the few African-American professional hockey players in the league.
Article continues below advertisement