Bristol Palin Faces Off With Angry Bar Patron; Calls Him 'A Homosexual'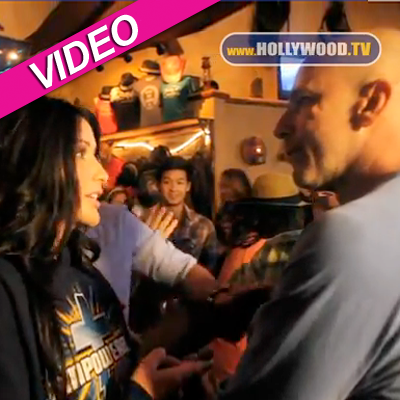 by RadarOnline.com Staff
Bristol Palin was fearless in facing off with a foul-mouthed heckler who started an altercation with her as she filmed her BIO network reality show at the Saddle Ranch, a restaurant and bar in West Hollywood on Thursday.
The 20-year-old Alaska native was riding a mechanical bull at the establishment, having a seemingly light-hearted time, laughing as she hung onto the ride until falling on her face.
Article continues below advertisement
That's when the taunts of an angry patron at the establishment could be heard, as the bald-headed man shouted a series of epithets at Bristol, such as "Did you ride Levi like that? Your mother is a whore! Your mother is a f**king devil!"
Bristol sprung up to action, rushing up in the man's face to defend her family name -- at one point, she asked him, "Is it because you're a homosexual and that's why you hate her?"
The man said, "Pretty much ... and why'd you say I'm a homosexual?"
"Because I can tell you are," Bristol said.
The war of words continued at a tense clip until Bristol's crew members and handlers put a distance between her and the angry man.
Watch the video on RadarOnline.com (WARNING: Video contains graphic, offensive language)
"You're f**king white trash from Wasila!" the livid man shouted as Bristol walked away. "F**k you, you f**king b*tch!"