NHL Star Sean Avery Target Of Anti-Gay Slur During Hockey Game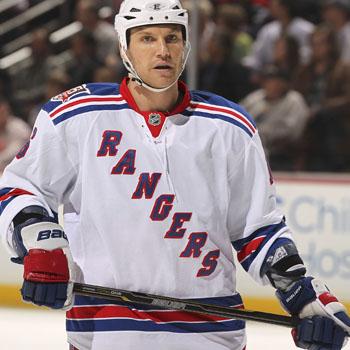 by RadarOnline.com Staff
Hockey players are notorious for bloody fist-fights and cruel heckling, but a player took the 'anything goes' nature of the sport too far during a preseason game on Monday, RadarOnline.com has learned.
New York Rangers star Sean Avery revealed that Philadelphia Flyers player Wayne Simmonds called him a homophobic slur during the match-up between the historically rival teams, reported ESPN.com.
Article continues below advertisement
The ugly epithet was uttered to Avery while he was on the ice near the Philadelphia team's bench, and a video reply recorded the angry words.
"To be here now having to answer the questions about what he did is disappointing for me. I'm disappointed for him," Avery said after the game.
While he by no means apologized for the distasteful comment, Simmonds claimed he didn't remember the exact words he used in his angry exchange with the rival player during the heated exchange, explaining that he felt Avery sucker-punched him early in the first period and said the two continued to verbally spar after that.
"Honestly, we were going back and forth for a while there," Simmonds said. "I don't recall everything that I did say to him but he said to me some things I didn't like and maybe I said some things that he didn't like. I can't recall every single word I said," said the 23-year-old Flyers player.
No stranger to the spotlight, Avery is an outspoken advocate of LGBT rights and a strong supporter of same-sex marriage. In May of this year, he filmed a video for the New Yorkers for Marriage Equality Campaign.
Article continues below advertisement
"The places I've played and lived the longest have been in West Hollywood, California, when I played for the L.A. Kings and when I moved to New York, I lived in Chelsea for the first four years," the fashion-conscious player told the New York Times.
"I certainly have been surrounded by the gay community. And living in New York and when you live in L.A., you certainly have a lot of gay friends."
NHL deputy commissioner Bill Daly revealed that the league is "looking into" the incident on Monday night.
Gay NBA Retiree Blasts Kobe Bryant For Gay Slur
"We have (the) ability to discipline for language used on the ice," Daly told ESPNNewYork.com via email, although he noted that the league has never employed that authority in the case of an anti-gay slur.
Avery, 31, did not say whether he thought they should take affirmative action, but pointed out that when a similar slur was hurled in a NBA game by Los Angeles Lakers star Kobe Bryant last April, he got fined $100,000.
Article continues below advertisement
Simmonds was a victim of a very different kind of prejudice last week during a game in London, Ontario when a fan threw a banana peel at the Flyers forward, who is one of the few African-American professional hockey players in the league, reported the Washington Post.
"When you're a black man playing in a predominantly white man's sport, you've got to come to expect things like that," Simmonds responded calmly.