Exclusive
Shaquille O'Neal Accused Of Tracking Wife's Car, Abusing Police Contacts For Intimidation -- Shocking New Lawsuit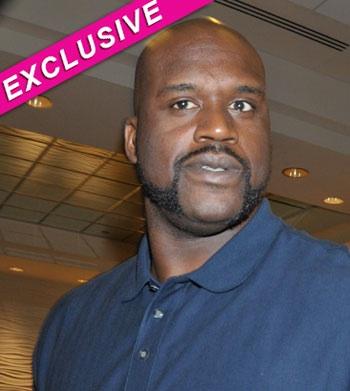 Shaquille O'Neal's legal troubles are continuing with a shocking new lawsuit that RadarOnline.com and Star Magazine have exclusively uncovered in a joint investigation.
In the filing the famed baller is accused of planting a tracking device on his wife's car, using the services of police officers and state attorneys to help him threaten and plant false evidence on a business associate, and even trying to cover-up multiple affairs, including one with a Newsweek reporter.
Article continues below advertisement
Shawn Darling, who originally filed a lawsuit against O'Neal in 2010, has filed an amended complaint alleging that O'Neal inflicted "emotional distress and invasion of privacy" against him. Darling became friends with the basketball star in 2007 and claims the friendship continued until 2009.
In the shocking lawsuit, Darling alleges O'Neal began worrying that his wife, Shaunie, was meeting with Shaq's alleged mistress Vanessa Lopez, so he began spying on her using advanced tracking systems.
"On September 25, 2009 O'Neal purchased an Ultimate Bluetooth Mobile Phone Spy, and an Ultimate People Finder Software system," the lawsuit states.
"At some point O'Neal had his wife's car wired and hired 'Guidepoint,' a company to place a GPS tracking system on her car to track her movements and her whereabouts.
"On September 29, 2009 nervous that Vanessa Lopez had made good on her threat to meet with his wife, O'Neal had his henchmen, Derrick Mallet, check with 'Guidepoint,' to find out where his wife had been," the documents allege.
Article continues below advertisement
The lawsuit claims that Mallet informed O'Neal via email about his wife's movements.
Another shocking claim in the lawsuit is that the basketball star used government officials, including police officers, retired police officers and state attorneys to help him deal with his mistress and ultimately to plant evidence on his ex-friend, Darling.
"Miami Beach Police Sergeant Jorge Alessandri responded to O'Neal that he got O'Neal's e-mails and that he will go over the information contained in them with a friend at the Miami-Dade State Attorney office," the lawsuit says.
"O'Neal along with Miami Beach Police Internal Affairs Unit, Sergeant Jorge Alessandri, Joe Wise, Donald Deluca, Jesus Pena, Timothy Devine, Justin Zormello, Robert Lara, Derrick Mallett, Joe Cavalerro, Jerome Crawfor, Mike Parris, and unnamed other persons embarked upon a mission to discredit, destroy, and ruin Darling in order to make sure that the proof that Darling had of O'Neals numerous acts would never see the light of day."
Article continues below advertisement
VIDEO: Vanessa Lopez To Shaquille O'Neal: I Think I'm Pregnant
Darling also claims tht O'Neal wanted to "frame him for possession of child pornography, have his house stormed by police, have him arrested for it, and have his computers confiscated while he is hauled off to jail as an accused child pornographer."
He goes on to state that O'Neal was afraid of being caught cheating and wanted to get copies of text messages he had sent to his mistresses, so he asked his own attorney to sue him to create a lawsuit as a means to obtain a subpoena. "O'Neal and his henchmen would stop and nothing to get what O'Neal needed. O'Neal and his henchmen gave no pause, and had no problem with the ideas of manipulating the judicial system to accomplish whatever O'Neal needed."
Darling claims that O'Neal carried on "an improper affair with reporter Allison Samuels of Newsweek magazine. If the affair came to light, O'Neal knew his mother would be furious. O'Neal believed that by harming Darling, the proof of his improper relationship with Samuels would never come to light."
The 85-page document exclusively obtained by Star Magazine and RadarOnline.com is a submission by Darling to the court that there was a systematic effort by O'Neal to discredit and implicate Darling so that his knowledge of the basketball super star's alleged affairs and misconduct would not become public knowledge.