Lesbian Actress Claims She Was Kicked Off Southwest Flight For Kissing Her Girlfriend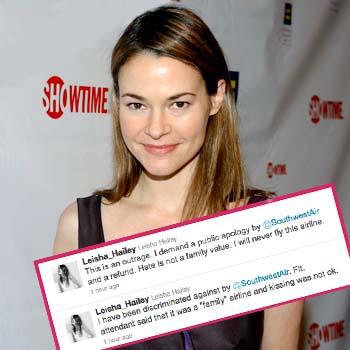 By Amber Goodhand - RadarOnline.com Reporter
The L Word star and open lesbian Leisha Hailey claims she and her girlfriend were kicked off a Southwest flight after the attendant deemed their public displays of affection inappropriate, RadarOnline.com has learned.
"I have been discriminated against by @SouthwestAir. Flt. attendant said that it was a "family" airline and kissing was not ok," the actress posted on her Twitter account Monday afternoon.
Article continues below advertisement
"This is an outrage. I demand a public apology by @SouthwestAir and a refund. Hate is not a family value. I will never fly this airline."
Hailey, 40, has also had roles on Grey's Anatomy, Drop Dead Diva and CSI and is part of the electropop duo band, Uh Huh Her.
"We were escorted off the plane for getting upset about the issue. @SouthwestAir endorses homophobic employees. No one made her accountable," Hailey continued.
"Since when is showing affection towards someone you love illegal? I want to know what Southwest Airlines considers as 'family.'"
This isn't the first time Southwest Airlines has been accused anti-gay remarks and actions, as RadarOnline.com previously reported, an unnamed pilot was heard over the radio — unaware it was on — complaining that his co-workers were "a continuous stream of gays and grannies and grandes" he doesn't care to socialize with in between stops.
Article continues below advertisement
"I know plenty of wonderful same sex families I would like to introduce them to. Boycott @SouthwestAir if you are gay. They don't like us," Hailey wrote.
Hailey's The L Word co-star Katherine Moennig took to her Twitter account in support writing, "hey @southwestAir you should be ashamed of yourselves."
Actress Sophia Bush also spoke out on Twitter in favor of Hailey writing, "Dear @SouthwestAir you seriously told @Leisha_Hailey that she could not kiss her GF on the plane & escorted them off? I see straight couples kissing on planes all the time. Is discrimination a standard part of your policy? How sad, ignorant, and disgusting. #LostCustomer #NOH8"
Bush went on to state: "If a straight couple can kiss in public, a gay couple can too. That's equality. That's tolerance. That's right & fair & kind."
According to Southwest Airlines' website, they participate in an GLBT outreach and claim to "take pride in our outreach and commitment to the GLBT community" and they're even the official airline of the Gay & Lesbian Alliance Against Defamation (GLAAD).
Article continues below advertisement