Exclusive
Rose McGowan Raised By Drag Queens: 'I'd Be Stoked To Do A Lesbian Love Scene'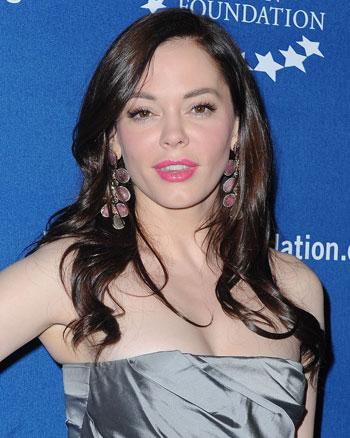 By Amber Goodhand - RadarOnline.com Reporter
Rose McGowan is straight as an arrow and has never even kissed a girl, but says she'd love to do a lesbian love scene — and get paid for it!
Homosexuality is comfortable for McGowan, who says she was raised by drag queens after she ran away from home at the age of 13.
"At 13, when I was a runaway, I was taken in by the most amazing drag queens in Portland, Ore. We didn't always know where our next meal was coming from, but there was so much camaraderie and love," the actress said in an interview with The Advocate. "Not to mention, those girls could paint a face, and I learned how because of them."
Article continues below advertisement
And even though McGowan has a lesbian sister, she says she isn't bisexual and isn't attracted to women at all.
"I disappoint myself. I've never even kissed a girl. Isn't that funny? The girls I think are cute look like guys, but then I think, 'But if they open their shirt, they'll have breasts,'" she said. "You know that guy Brad Goreski, who was Rachel Zoe's assistant? I'd be attracted to a girl version of him."
The former Charmed star says she's never been offered a lesbian role, but would jump at the chance.
"I'd be stoked to do a lesbian love scene. When asked if I've kissed a girl, I could finally say, 'Why, yes, I have. And I got paid,'" McGowan said.
"To this day, I only go to gay clubs. I'm perfectly at home there. I also like watching hot boys and hot girls who can dance."
So who would play McGowan's lesbian love if she got to choose?
Article continues below advertisement
"Whenever someone asks if I have a crush on any male actors, the problem is that I only like people who are dead, like Robert Mitcham or Cary Grant. So my answer to you would have to be someone like Ava Gardner. I will not be a cliché and say Angelina Jolie," she said.
Until she lands that lesbian role, McGowan surrounds herself with her own group of lesbians, including her assistant.
"She and her friends — they're all exes of each other — are an unbelievable family. It's a group effort: If my fridge breaks down, one of them is here with an ice chest in 15 minutes," McGowan, 37, said.