Exclusive
Celebs React To Casey Anthony 'Not Guilty' Verdict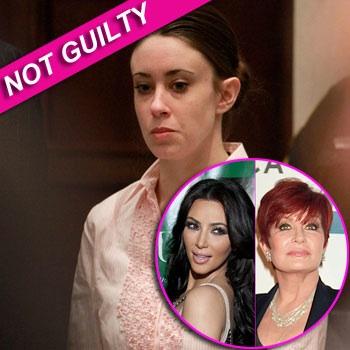 Article continues below advertisement
"Casey Anthony not guilty??.....it's a disgrace. She'll probably get her own reality show now," Sharon Osbourne wrote.
Kim Kardashian, whose father represented O.J. Simpson during his infamous murder trial in 1995, wrote, "WHAT!!!!???!!!! CASEY ANTHONY FOUND NOT GUILTY!!!! I am speechless!!!"
"Completely Shocked! RT @todayshow: #CaseyAnthony found not guilty of first degree murder," actress and mother Tori Spelling wrote.
Actress Rose McGowan wrote, "Shocked! AP: Casey Anthony acquitted of killing daughter."
"Can we riot?!!" former Baywatch beauty Nicole Eggert wrote.
A-lister hairstylist Tabatha Coffey didn't hold back on her opinion writing, "Ridiculous Verdict."
"Perhaps it's time to start using birth control when you think you're ready for children, take that extra moment if can't give up partying," comedienne Sandra Bernhard wrote in reaction to the verdict.
Article continues below advertisement
Actor and funny guy Marlon Wayans tried to make a play on the Simpson case writing, "Ok white people, we got OJ yall got casey anthony... We even? Wait not til she's convicted 4 robbery 4 tryin to retrieve caylee baby clothes."
"Casey Anthony. You go girl! You have three years of partying to make up for!" former Saturday Night Live actor Kevin Nealon wrote.
Reality television host and UFC commentator Joe Rogan wrote: "Octomom and Casey Anthony in a new reality show where they compete to get sober men to shoot loads inside them. It's called 'The Apocalypse.'"