Glee's Naya Rivera To Host GLAAD Media Awards In San Fran; Kim Cattrall Among Honorees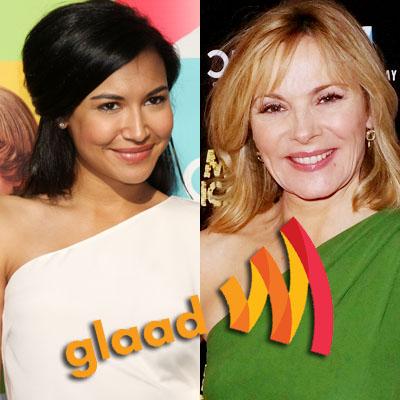 Sexy Naya Rivera -- who plays closeted lesbian Santana on Glee -- will host the 22nd annual GLAAD Media Awards In San Francisco later this month, and actress Kim Cattrall will be the evening's big honoree.
GLAAD -- which stands for The Gay & Lesbian Alliance Against Defamation -- made the announcement Wednesday.
Cattrall, best known for her role as Samantha Jones on Sex and the City, will receives GLAAD's prestigious Golden Gate Award.
Article continues below advertisement
The Golden Gate Award is presented to media professionals who, through their work, have increased the visibility and understanding of the lesbian, gay, bisexual and transgender community. Previous recipients include Megan Mullally, Jennifer Beals, Stockard Channing, Cybill Shepherd, Jennifer Tilly, James Schamus, and Brooke Shields.
"Kim Cattrall has not only grown acceptance of our community through storylines on shows like Sex and the City, but used her platform to speak out for equality," GLAAD President Jarrett Barrios said in a statement. "We are proud to honor such a talented and passionate advocate."
Other special guests at the event will include Grey's Anatomy star Sara Ramirez, Mario Lopez, Celeb hair stylist Tabatha Coffey, True Blood's Nelsan Ellis and rugby player Ben Cohen.
Openly lesbian tech writer Kara Swisher will receive the Local Hero Award at the gala.
The event will be held Saturday, May 14 at the San Francisco Mariott Marquis. For ticket info, go to www.glaad.org/mediaawards.
The GLAAD Media Awards recognize and honor media for their fair, accurate and inclusive representations of the lesbian, gay, bisexual and transgender community and the issues that affect their lives, and a complete list of nominees are available at the GLAAD website.