Cher Moved To Tears Watching Chaz Bono Dance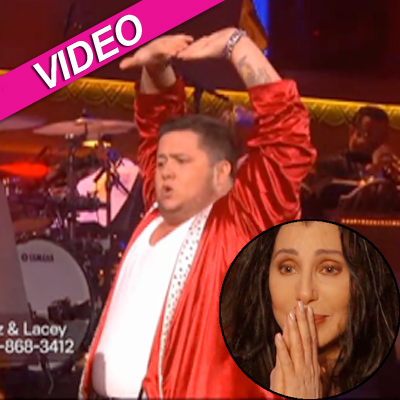 With Cher in the crowd, Chaz Bono was the man of the hour on Dancing with the Stars Monday night, as he rebounded from consecutive sub-par performances to rack up a respectable 21/30 points for his paso doble set to the Rocky theme, which moved his mother to tears.
Cher wasn't the only family member in the crowd to support Chaz, as his stepmother Rep. Mary Bono Mack of Palm Springs, half-brother Chesare Bono, half-sister Georganne LaPiere Bartylak and girlfriend Jennifer Elia were front-and-center at Hollywood's CBS Television City to watch him take the floor.
Article continues below advertisement
Celeb Standings On Week 4 Of Dancing With The Stars
"It was great to have everyone here -- it pumped me up," Chaz said Monday. "I know my mom was really proud of me and that was awesome. I'm glad that whatever we're doing is touching people.
"It was a great night -- last week was a hard week, and everyone knew I was kind of feeling bad about it, so to come back this week and have my whole family there, it was amazing."
After injuries to his knee, ankle and right leg dragged Chaz into a two-week slump, the 42-year-old author/activist and his pro partner Lacey Schwimmer sought the help of 80s workout guru Richard Simmons to help lift Chaz's spirits and keep his conditioning -- it worked, as Chaz's dance earned him a standing ovation from the crowd and high praise from the judges.
Carrie Ann Inaba told him she loved the dance and thinks he has "magic," while Len Goodman told him, "It was your best dance to date."
MORE ON:
Dancing With the Stars
Article continues below advertisement
Watch the video on RadarOnline.com
Bono, buoyed by Simmons' encouragement, used the show's elaborate staircase extensively in his number. He said that the injuries didn't impact his ability to put his whole body into the demanding dance.
"It felt good: Going up stairs actually feels pretty good," he explained. "Going down stairs is a little more challenging on my body right now. The adrenaline was pumping and I just did it.
"A couple of weeks ago I was in a lot of pain, and now I'm just in a little bit."
Elisabetta Canalis 'Didn't Stand A Chance,' Says DWTS Partner Val Chmerkovskiy
Following the show, Chaz tweeted: "Amazing, Amazing Night!! ... thanks to everyone for the support. I had an awesome time dancing the Rocky theme with @LaceySchwimmer and my whole family in the audience!"
His mother, Cher, was equally elated with the evening, as she tweeted: "OMG! I WAS CRYING ! WASNT EXPECTING 2 B SO NERVOUS ! BROKE MY BRACELET CLAPPING ! IM SO PROUD !! CHAZ WAS GREAT! LOVED DAVID ARQUETTE 2nd."