Sonny & Cher Wigs Are The Hottest Accessory For Fashion-Conscious Canines!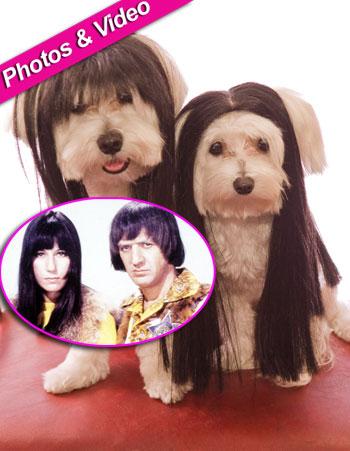 Now this is just barking mad!
With Chaz Bono getting the lowest score from the Dancing With The Stars judges last week, the transgender star needs all the support he can get - even from household pets!
Now the family dog can pledge his or her loyalty for the Bonos with a custom Sonny & Cher wig that transforms a regular pooch into the "spitting image" of the iconic singers.
With a shaggy (dog) bowl-cut for male dogs and a long hippie style for bitches, the hairpieces are created by Ruth Regina who founded Wiggles Dog Wigs twenty years ago after her niece asked her to make a wig for her pet Basset Hound.
Article continues below advertisement
Coming in a variety of styles including flowing blonde curls, black dreads, blue ringlets, and even Sarah Palin or Joe the Bartender signature styles, the doggy wigs make the perfect addition to any canine costume this Halloween and come in a variety of sizes.
The fashionable hairpieces have holes to fit easily over the pretty pooch's ears and sit securely without irritation. For dogs who don't want to make the full commitment of wearing a wig, extensions are also available that add a fun flash of color.
Regina shared her love of doggy accessories on The Late Show With David Letterman, when she brought on a good-humored King Charles Spaniel to model one of wigs, explaining how it was made from the finest European human hair.
While she is an expert in wigs, Ruth seemed a little less educated about dogs and didn't know what kind of breed Penny the Spaniel was when asked. "Is it a German Shepherd?" joked the Letterman, as the patient pooch sat on his desk.