Elisabetta Canalis 'Didn't Stand A Chance,' Says DWTS Partner Val Chmerkovskiy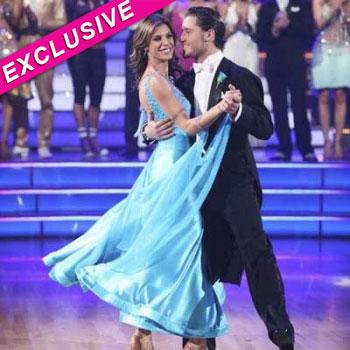 Despite Chaz Bono getting the lowest scores from the judges after Monday night's performances on Dancing with the Stars, it was Elisabetta Canalis who got voted off, and RadarOnline.com can exclusively reveal that her partner Val Chmerkovskiy thinks it was because of a lack of popularity - not dancing skills - that got her the boot.
"She's not known in this country aside from her past relationships," Chmerkovskiy told RadarOnline.com in an exclusive interview. "Because of the lack of fan base our only shot was to score high, which we did, but unfortunately for us, that night a lot of couples received similar scores and it was left to the voters to decide.
Article continues below advertisement
"I can't say what the public perception of Elisabetta was, but I do know that going up against David Arquette's fanbase or Chaz Bono's publicity frenzy, she didn't stand a chance," he said.
"She's a beautiful Italian woman whose 'language of thought' isn't English," the DWTS professional explained.
"Sarcasm and sense of humor got lost in translation many, many times during rehearsals and interviews. She's a pleasant person to be around though, she has a big heart."
Chmerkovskiy went on to reveal that George Clooney's ex-girlfriend was slow to realize how much work was required on the grueling dance competition.
"I felt like Elisabetta was not prepared for the amount of work that would be required of her. By the time she realized what it took to be successful, it was already too late," he explained.
The Ukrainian dancer, who is DWTS veteran Maksim Chmerkovskiy's younger brother, was impressed with his partner's final performance.
MORE ON:
Elisabetta Canalis
Article continues below advertisement
"I thought Elisabetta's quickstep on Monday was beautiful. She did a great job executing the things we rehearsed and she deserved to stay
another week."
Even after Chaz got the lowest score from the judges, Chmerkovskiy said he didn't automatically assume the transgender star would get sent home.
"The judges hold a great deal of leverage, however they are not the sole decision makers," he explained to RadarOnline.com. "You have viewers' interest, intrigue and attention on certain characters which translate into votes."
He went on to add: "I wish Chaz the best of luck. He works hard and he, like everyone else on the show, deserves to do well."
Italian TV host Canalis was naturally upset about being booted off so soon, explained Val. "She was sad. It's sad when you get eliminated, for many different reasons," he told RadarOnline.com.
Now that he's not competing, the dashing Ukrainian will naturally vote for his big brother.