George Clooney's Ex Elisabetta Canalis Claims She Is A 'Doormat' When It Comes To Love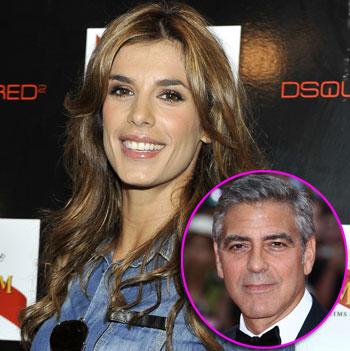 Elisabetta Canalis has kept mum on the subject of love ever since her high profile split from eternal bachelor, George Clooney, but now she's finally opening-up.
The 32-year-old model – who split from Clooney in June after two years of dating – admitted she has always been attracted to "cold and controlled men", but has now accepted that a Prince Charming isn't going to come along and "save" her.
Article continues below advertisement
"I'm a bit of a tomboy, but when it comes to love I am a doormat," she said. "I'm looking for men who can give me security.
"I have always seen cold and controlled men as the right ones for me. You have to accept that Prince Charming who is coming to save you is not going to happen - it works against you."
The Italian beauty – who is set to appear on the upcoming series of Dancing with the Stars – is now hopeful about future romances, but explained she still sees the end of a relationship as a "personal failure".
Elisabetta added in an interview with Italian magazine Chi: "At the end of the day I have always seen the end of my relationships as a personal failure. There is nothing ever pretty is saying goodbye.
"In the past I would self destruct when it came to love - I was immature, throwing myself into things but now times have changed, I want a relationship where you understand the other person.
"The end of a relationship is complicated," she admitted, but says she made the decision to compete on Dancing as a way of getting over her her break-up.
MORE ON:
Dancing With the Stars
Article continues below advertisement
"I went to the United States, because at the moment I could no longer face the world. Watching my life being dissected was not easy for me.
"Here in Los Angeles I have found serenity. I've also found work. It was a difficult time for me, but you have to get on with things.
"It's a defect to cut everything off and count only on yourself but throwing myself into my work is the only way I can cope, it distracts me from all emotions."