DWTS: Elisabetta Canalis Is Smoking Hot -- Chaz Bono & Lacey Schwimmer Head To Rehearsals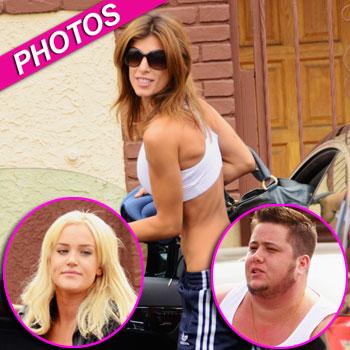 They say that Dancing with the Stars gets you in great shape, but that's something Elisabetta Canalis doesn't need to worry about.
George Clooney's ex-girlfriend was spotted heading to rehearsals on Friday and she was showing off her already smokin' hot body to full effect in a sports bra and sweatpants.
Rehearsals are in full swing for the upcoming season 13 of the hit ABC show and all the stars turned-out this past week to get their dance on.
Article continues below advertisement
Chaz Bono is already the most controversial contestant of the new season. ABC's decision to cast the transgender daughter-turned-son of Sonny and Cher has sparked outrage from certain quarters, with some groups already campaigning for a boycott of DWTS.
The celebuspawn held his head high on Friday though as he headed to rehearsals to meet-up with his dance partner Lacey Schwimmer.
The blonde bombshell defended Chaz on Thursday, telling KIIS FM's "Johnjay and Rich" that he is "a full man, in every shape and form."
Meanwhile, does Cheryl Burke really need anymore dance practice? The DWTS veteran was all smiles when she turned-up for rehearsals in oversized sunglasses and an oversized bag and fellow hoofer, Derek Hough, who looked cool as a cucumber, is clearly embracing his celebrity.
Ricki Lake has her work cut-out for her. Lake has apparently been losing the battle of the bulge recently, but that's nothing a few weeks of training can't fix. The infamous yo-yo dieter/90's talk show host lugged two oversized bags with her into the Hollywood dance space on Friday.
Article continues below advertisement