Zachary Quinto: Jamey Rodemeyer Inspired Me To Come Out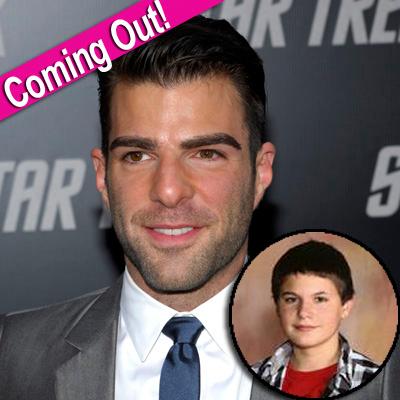 A day after coming out in an interview with New York Magazine, actor Zachary Quinto said he was "in awe" of the support he's received, and explained what led to him making the public revelation.
He tweeted Sunday: "i have spent the day in awe of this outpouring of support and resonance. we. are. in. this. together. NEVER FORGET! i am deeply moved. (sic)"
Quinto also took to his blog, explaining that the reason he decided to publicly declare his sexuality now was because of Jamey Rodemeyer, the Buffalo, New York teenager who killed himself last month after enduring constant harassment from schoolyard bullies over his sexuality.
Article continues below advertisement
Quinto wrote he "felt indescribable despair" after learning Jamey had posted a viral video in which he preached a message of anti-bullying and tolerance synonymous with his favorite musical artist, Lady Gaga.
The Heroes star wrote that "in light of jamey's death - it became clear to me in an instant that living a gay life without publicly acknowledging it - is simply not enough to make any significant contribution to the immense work that lies ahead on the road to complete equality."
He continued, "jamey rodemeyer's life changed mine. and while his death only makes me wish that i had done this sooner - i am eternally grateful to him for being the catalyst for change within me. now i can only hope to serve as the same catalyst for even one other person in this world."
As we previously reported, the 34-year-old Star Trek star, discussing equality for gay people, told New York Magazine, "As a gay man, it made me feel there's still so many things that need to be looked at and addressed.
Article continues below advertisement
"And, as a gay man, I look at that and say there's a hopelessness that surrounds, but as a human being I look at it and say, 'Why? Where's the disparity coming from?'"
Upon hearing the news, openly gay actor George Takei -- who starred in the 1960s Star Trek TV series as well as the earlier Star Trek films featuring the original cast -- posted a message of support on his Facebook page, writing: "Very proud of Zach Quinto for joining me in the "out" Trek family."