ABC News Anchor Comes Out On Live TV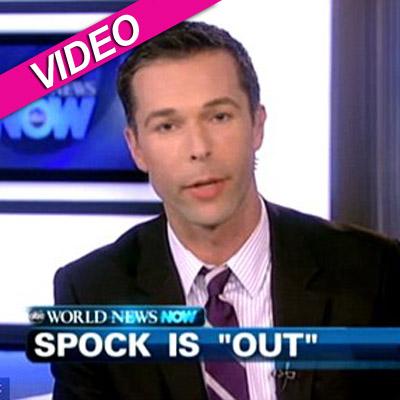 It was just a quick ad lib after a story, but ABC News' Dan Kloeffler is making headlines himself today.
The reason? While anchoring ABC World News Now at 3 am Monday, Kloeffler revealed that he is gay.
Kloeffler's admission came after a story about Heroes actor Zachary Quinto, who recently announced that he is gay.
Speaking matter-of-factly, Kloeffler quipped: "He's 34, I'm 35, I'm thinkin' I could lose my distraction about dating actors for that one."
Article continues below advertisement
In a blog post on ABC's website, Kloeffler later explained why he made the remark.
"Kind of a big moment for me while filling in on World News Now, which is by far the most fun you can legally have at 3:00 in the morning! Yunji de Nies and I were talking about celebrity headlines, when I read the story about Zachary Quinto, who played Spock in "Star Trek," coming out as gay in a magazine interview. Because WNN is a show where you can offer some personality, I had a little fun with the story saying that I would drop my rule against dating actors.
"I've never shared that I'm gay on-air, even though I've been out to my family, friends and co-workers for years. In fact, an old boyfriend – now best friend – has always given me a hard time about not doing so. But for the same reason that Zach decided to come out, I too, no longer wanted to hide this part of my life.
"There have been too many tragic endings and too many cases of bullying because of intolerance. As a kid I wanted someone to look up to, someone that could relate to the feelings I was having. Most of all, I wanted to know that it would get better.
Article continues below advertisement
"And it did.
"As a journalist, I don't want to be the story, but as a gay man I don't want to stand silent if I can offer some inspiration or encouragement to kids that might be struggling with who they are."
As RadarOnline.com previously reported, Quinto cited the suicide of 14-year-old Jamey Rodemeyer for inspiring him to come out.
Writing on his blog on Sunday, Quinto posted: "In light of Jamey's death, it became clear to me in an instant that living a gay life without publicly acknowledging it is simply not enough to make any significant contribution to the immense work that lies ahead on the road to complete equality.
"Our society needs to recognize the unstoppable momentum toward unequivocal civil equality for every gay, lesbian, bisexual and transgendered citizen of this country.
"Gay kids need to stop killing themselves because they are made to feel worthless by cruel and relentless bullying. Parents need to teach their children principles of respect and acceptance."
Quinto said that Jamey's death made him wish he had come out sooner.