Maksim Chmerkovskiy Tweets About 'Hypocrites, Liars' Following Hope Solo Accusation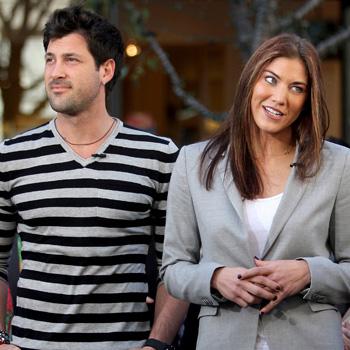 Seems as if Maksim Chmerkovskiy and Hope Solo are out of step.
The Ukrainian Dancing with the Stars hunk fired back after the Olympic soccer stunner, in her new book, accused him of getting too physical with her during training on the 11th season of the ABC hit.
In her new tome Solo: A Memoir of Hope, Hope writes Maksim "manhandled me in rehearsals from the start, pushing me, whacking my stomach, bending my arms roughly. I thought that was just how it went -- how dancers worked with each other. But it kept getting worse.
Article continues below advertisement
"One day, Maks was trying to put me in a certain position and hit my stomach so hard with his open palm that I had a red handprint there for the rest of the day."
Solo said ABC offered her a switch of partners but she declined, saying she "didn't want to end Maks' career."
Maksim, who's known to be hot-headed on occasion, sent a few hostile tweets Thursday some could perceive as a reaction to the bad publicity.
"Always hated hypocrites and liars, but when someone is both and an opportunist, I just feel bad for them. Can't win at someone's expense," Maksim wrote, later adding, "Life's best lessons are the ones that you smile through.....while they hurt you the most!
"I'm bullet proof....FIRE AWAY!"
The gorgeous 31-year-old wound up finishing in the final four. Chmerkovskiy has previously teamed up with Denise Richards, Erin Andrews, Brandy, Kirstie Alley and Mel B, who he'll be partnered with again in the show's new All-Star season.
MORE ON:
Dancing With the Stars
Article continues below advertisement
Watch the video on RadarOnline.com
Last November, Solo told Ryan Seacrest she nearly walked off after an incident in which Maks put his hand on her shoulder a little too hard during rehearsals.
"I almost quit the show right then and there," the controversy magnet told Seacrest. "I almost walked out, but I told myself I am in this for the long-haul, through all the bumps and bruises."
"I want everybody to know out there that as a strong, independent woman that stands up for herself, I would never just let that go unnoticed," Solo said. "Outside of the cameras, he knows that he was in the wrong. He will be the first one to stand up to that."