Maksim Chmerkovskiy: 'I Have Nothing To Apologize For To Len'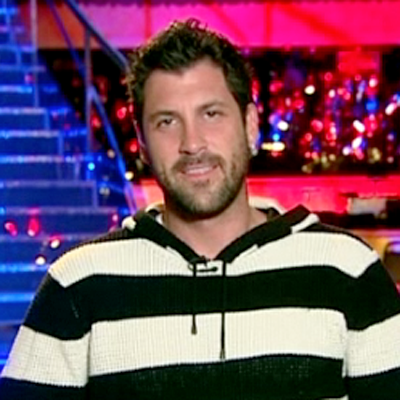 Maksim Chmerkovskiy isn't backing down from his razor sharp jab to Len Goodman, two days after he told Dancing with the Stars' 67-year-old head judge, "Maybe it's time to get out" of the ballroom business.
"I have nothing to apologize for to Len," the Russian pro dancer, 31, told Good Morning America on Wednesday. "The last time I apologized was to my grandma when she was dying of cancer."
Article continues below advertisement
As we previously reported, after Chmerkovskiy and his celebrity partner Hope Solo danced the rumba to the musical Rent, Goodman told Solo she'd just finished her "worst dance of the whole season" -- a comment which caused the crowd to jeer (encouraged by Chmerkovskiy).
Goodman referred to his five decades of experience in the craft to explain to Chmerkovskiy why the audience liked a dance the judges didn't.
"'I've been in this business for nearly 50 years," Goodman told Chmerkovskiy who chirped back, "Maybe it's time to get out!"
"Don't be disrespectful like that!" judge Carrie Ann Inaba yelled at him.
Chmerkovskiy said he would "certainly not apologize to Carrie Ann -- she can make all the faces she wants."
The cocky dancer also reiterated his controversial comment that Dancing with the Stars "is my show: I help make it what it is."
Article continues below advertisement
Chmerkovskiy explained, "I love the show. I love the fans. I love every aspect of it and that was the whole idea behind what came out wrong with 'My show'...
"When I got on this show six years ago, I treated it as a dance competition and everyone here tried really hard to change my mind and say 'Look Maks, it's a show, there are other elements to it,' so I embraced it. But one thing I'm not going to embrace is pointed fingers and disrespectful remarks."
Chmerkovskiy then referred to Chaz Bono's complaints after he was compared to a penguin, a basketball and an Ewok by the judges.
"Why is it that the judges are allowed to compare us to animals and say stuff they think is funny when it's nothing constructive at all and we can't say that they're wrong, basically?" he said.
Watch the video on RadarOnline.com
He said the one thing he doesn't "want to do is to have Hope have any negative vibe out of this ... she's truly our star and she's been doing an amazing job."