Hope Solo's Fiance Jerammy Stevens Arrested For Domestic Violence Day Before Their Wedding!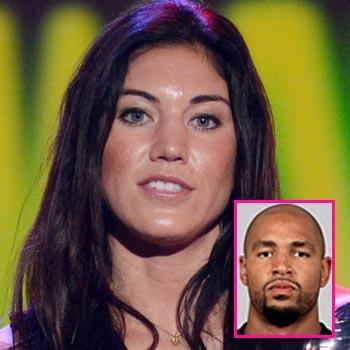 On Tuesday, Olympic soccer stunner Hope Solo was supposed to marry one-time NFL tight end Jerammy Stevens, but the plans could be in limbo after Stevens was arrested in connection with domestic assault at a Kirkland, Washington home Monday.
The two-time Olympic gold medalist appeared in court Monday, giving a statement through her attorney that she had not been assaulted in the incident. Stevens was subsequently released by a Kirkland Municipal Court judge, who said there wasn't evidence he assaulted her. Police said they're still investigating, and the former Seattle Seahawks tight end could be charged if new evidence is discovered.
Article continues below advertisement
The melee unfolded during a house party early Monday in which Solo's 34-year-old brother Marcus Tased one of the guests. The athlete couple had been fighting over whether they would reside in Washington or Florida, according to court docs.
The former Dancing with the Stars contestant suffered a cut on her elbow, and when officers found Stevens, he "appeared to be hiding" in a bedroom, police said. He told authorities he'd been sleeping, but had dried blood on his shirt, and subsequently admitted to arguing with Solo, at which point he was taken into custody.