Halle Berry Not Allowed To Move Daughter Nahla To France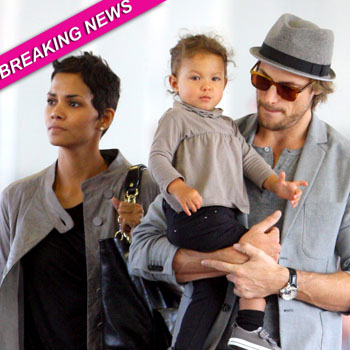 Halle Berry left a Los Angeles courtroom on Friday afternoon and was reportedly told by the judge that she can't move to France with her four-year-old daughter, Nahla, whom she had with ex-boyfriend Gabriel Aubry, according to new reports.
Wearing a black silk top, black pants, and black sunglasses, the Academy award winning actress left the courtroom approximately 20 minutes after her baby daddy, Canadian model, Aubry. Berry had no comment, but did look visibly upset.
Article continues below advertisement
As RadarOnline.com reported, Berry wanted to move to France with her fiance Olivier Martinez, and take Nahla with her, something Aubry was opposed to from the beginning.
The former couple have been duking it out in court for more than a year over custody of the adorable little girl.
The couple's custody war ramped up earlier this year when Halle's nanny accused Aubry of physically attacking her when she was holding the toddler. The cops investigated and determined that there was insufficient evidence to merit charges being filed against Aubry.
Halle and Aubry split in 2010 after five years together and have been engaged in a bitter dispute over Nahla ever since. Halle's engagement to French born Martinez will make it the third wedding for the actress and Aubry's lawyers are using her two previous marriages against her to prove this move isn't in the best interest of Nahla.
The independent child custody evaluation said that Aubry had a substantial and meaningful relationship with Nahla.
Article continues below advertisement
"The report concluded that Gabriel's relationship with Nahla would clearly change drastically if she moves to France. Gabriel plays a very active role in Nahla's life and has been a doting and loving father and that would obviously change if she moved to France. The report notes that Gabriel takes Nahla to and from her preschool and spends as much time as possible with her under terms of the current custody agreement," a source close to the situation previously told us.
"The bottom line is that the proposed move to France would essentially cut Gabriel out of Nahla's life and the child psychologist determined that wasn't in the little girl's best interest. However, this is just a report, it will be up to a judge to ultimately decide if Halle will be allowed to move to France with Nahla."
The insider said, "The report also notes that Gabriel wouldn't be able to work or live in France for an extended period of time because he doesn't have citizenship in that country. Halle is engaged to a French citizen, and that won't be an obstacle for her once she marries Olivier."