Swimming With Sharks! Brave Halle Berry Gets Up Close & Personal With Great Whites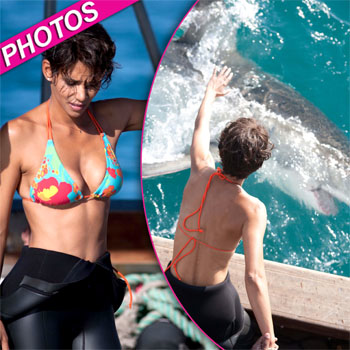 Article continues below advertisement
The 46-year-old star looked smoking hot in a brightly patterned string bikini and wetsuit as she hung out on a boat and watched the sharks.
Berry says that she actually swam with the great whites but never put herself in danger.
She said: "I got into the same water as the sharks. Apparently, I'm one of the very few people who have done that.
"Was I scared? Yes. But I never put myself in harm's way because I'm a mother and there are certain things I just would not do any more.
"I spent some time with a man known as the shark whisperer; my character is modelled on him.
Dark Tide also stars Berry's fiance Olivier Martinez, 46.
The pair met and fell in love while filming and Martinez plays her on-screen ex-husband and former diving partner.
Berry, who has a daughter Nahla, four, with her ex boyfriend Gabriel Aubry, added: "How did I manage it? Very carefully!"
Great whites are said to be the most deadly ocean predators in the world and five swimmers were killed by attacks in the past year in Western Australia.