The Jaws Of Death! Spectacular, Massive Shark Feeding Frenzy Closes Australian Beach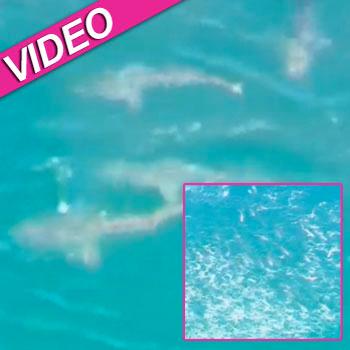 By Debbie Emery - RadarOnline.com Reporter
Jaws had nothing on this gang of hungry sharks!
A feeding frenzy featuring up to 50 sharks as big as eight feet long caused a beach in Perth, Australia to close on Monday, and RadarOnline.com has video of the spectacular natural phenomenon.
The mammoth collection of blacktip whalers, spinner sharks and bronze whalers embarked on a frenzied attack on a school of fish less than half a mile from the shore of Yanchep Beach in Western Australia, reported PerthNow.com.au.
Article continues below advertisement
"It's quite unusual to see it so close to shore," said Department of Fisheries shark research scientist Rory McAuley. "That really demonstrates to me that we have a remarkably healthy marine ecosystem out there and we're really lucky to be able to see these sorts of things so close to a major city."
The fantastic footage, which was captured by the Westpac Life Saver Rescue helicopter, shows the giant underwater predators whipping and flipping up the water as they gorge on their seafood meal, while gulls circle overheard waiting for scraps in their wake.
"It is spectacular. It's not something I've seen a lot of. I've heard of similar events, mostly outside of the metropolitan region every few years," explained McAuley.
"It's a big treat ... it's something we should all be very proud of."
The rare feeding frenzy was sparked by the appearance of a school of tuna, which were in turn feeding on a school of bait fish.
"I saw some tuna in there hitting the smaller fish ... and then sharks being attracted by that commotion and coming in for a feed themselves," the shark expert revealed. "The sharks may have been feeding on the small bait fish as well as some larger predatory fish."
Article continues below advertisement
Despite the violence of the mass attack and the protective closure of the beach, McAuley assured swimmers that these species of shark don't normally attack people and shouldn't be considered a threat.
Watch the video from 9News below: