Get Your Clippers At The Ready! Colorful Canines That Are Dyeing To Be Extreme Grooming Winners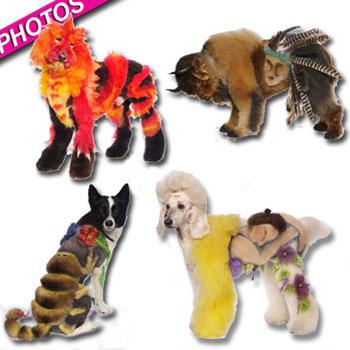 By Debbie Emery - RadarOnline.com Reporter
Now this is just barking mad!
These colorfully dyed dogs haven't been taking styling tips from Lady Gaga, Katy Perry or Nicki Minaj – they are all contestants in extreme grooming competitions around the world, and RadarOnline.com has photos of their crazy canine coifs.
From a winged-terrier dressed up as a red dragon, to a diamond-decorated harlequin, to a sturdy pooch pulling an Amish wagon and a pink poodle that makes a much more glamorous dinosaur than Barney, the four-legged models look as outrageous as any music star who walked the red carpet at the Grammys.
Article continues below advertisement
The competitors all put their best manicured paws forward to help their stylists vie for the prize of top groomer in nail-biting competitions in Britain and the U.S., and the carefully clipped canines have all been captured by photographer Ren Netherland from Florida, who travels thousands of miles to snap shows across the country in 20 different states.
Animal rights groups can relax, the rainbow of bright colors are all produced by normal and washable vegetable dyes, and what most pet owners aren't aware of is that many of the dogs competing in the Westminster Dog Show are dyed too, they are just done in natural shades to match their fur.